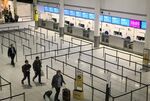 After a string of airline bankruptcies, Warren Buffett has become more positive about the industry's fortunes—in the U.S. at least. Yet the collapse of U.K.-based Monarch Airlines suggests the billionaire investor was also right in his earlier assessment: aviation is often a "death trap" for investors.
Monarch's failure has been long in gestation. Owned by private equity firm Greybull Capital LLP, it has required a succession of capital injections and restructurings in recent years. A year ago, regulators were even rumored to have set up a shadow airline to track the company's flights to the Mediterranean because they feared Monarch might have to cease flying, leaving passengers stranded.
Monarch secured a 165 million pound bailout ($220 million) from Greybull on that occasion, prompting chief executive Andrew Swaffield to insist: "We are not going to go bust". His promise didn't even remain valid for 12 months. 

Monarch blamed its financial difficulties on terror attacks in Turkey and elsewhere, which prompted other budget carriers to shift more flights to its core Spanish and Portugal market, pressuring fares. Meanwhile, costs such as jet fuel were inflated by sterling's post-Brexit decline.  
Still, troublesome real-world events are par for the course in running an airline. Were it not for the constant willingness of governments and investors to prop them up, only the best-capitalized operators with the cheapest costs would survive. Monarch was neither of these.
Though staff took a 30 percent pay cut in 2014 to help the airline try to keep up with Ryanair Holdings Plc and others, Monarch made a 318 million pound net loss during its most recent financial year. The business had a 316 million pound negative net worth when measured at the end of October 2016.
Buffett's beef with airlines was their tendency to consume bucketloads of capital without delivering a financial return or competitive advantage. The collapse of Air Berlin Plc, Alitalia Spa and now Monarch shows he was right.
Before it's here, it's on the Bloomberg Terminal.
LEARN MORE