Kremlin Critic Jailed Ahead of Rally in Putin's Hometown
By and
Opposition leader sentenced to 20 days for protest appeals

Navalny rallies had drawn thousands in cities across Russia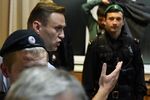 A Moscow court jailed opposition leader Alexey Navalny for 20 days, less than a week before he planned to lead a major rally in President Vladimir Putin's hometown on the Russian leader's birthday.
The Simonovsky Court found Navalny guilty on Monday of a repeat offense of calling for participation in illegal demonstrations. The Putin opponent, who was detained for several hours on Sept. 29 in Moscow as he prepared to travel to the Volga River city of Nizhny Novgorod for another rally, has been stepping up his defiance of the government. He denied the charges and argued in court that the planned protest had been granted a permit by authorities, though it was later revoked.
"Old man Putin was so scared by our demonstrations in the regions that he decided to give himself a little birthday gift to make himself feel better," Navalny wrote in Twitter after the verdict. Putin turns 65 on Saturday. Navalny vowed to appeal the ruling.
He has drawn thousands of people to a series of campaign rallies in cities across Russia recently, after inspiring the largest anti-government protests for at least five years in March.
The anti-corruption activist has announced his candidacy for March 2018 presidential elections that would almost certainly pit him against Putin, who's expected to seek a record fourth term.
Officials say Navalny is barred from running because of a fraud conviction that he's dismissed as politically motivated.
Navalny, who almost forced a run-off against a Putin ally in the 2013 Moscow mayoral election, came to prominence as a key organizer of mass protests that erupted over alleged ballot-rigging in 2011-2012. The protests were the biggest since Putin came to power almost two decades ago.
Before it's here, it's on the Bloomberg Terminal.
LEARN MORE