Five Things You Need to Know to Start Your Day
Get caught up on what's moving markets in Asia.
By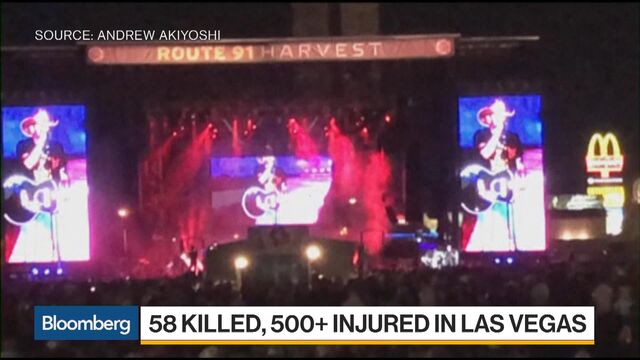 Want to receive this post in your inbox every morning? Sign up here.
White House rules out talks with North Korea, at least 59 dead in worst mass shooting in modern U.S. history, and Rajoy's Catalonian calamity.
No More Talk
The White House is through talking with North Korea, said spokeswoman Sarah Sanders on Monday, remarks which confirmed an apparent split between U.S. President Donald Trump and the nation's top diplomat on how to handle escalating tensions on the Korean peninsula. The president tweeted on Sunday morning that Secretary of State Rex Tillerson was "wasting his time trying to negotiate" with Kim Jong Un's regime. The message was an awkward rejoinder on the heels of Tillerson's revelation that the U.S. was communicating with the rogue state through its own channels, raising the prospect that the two are playing good-cop, bad-cop with North Korea.
Mass Shooting
At least 59 are dead and more than 500 injured in the worst mass shooting in modern U.S. history. Police identified the gunman as 64-year-old Stephen Paddock, who fired upon concert-goers in Las Vegas from a hotel room before turning the weapon on himself. The Islamic State claimed responsibility for the attack, though an FBI special agent said that the bureau had not reached that conclusion as of yet. Trump called the massacre an "act of pure evil," and plans to visit the city on Wednesday. The tragedy has already renewed debate over the nation's gun control laws -- specifically, the lack thereof. Predictably, gun stocks rallied in the wake of the horrific event. Also predictably, members of the online community 4chan falsely identified the gunman in posts that were displayed prominently in Google search results following the shooting.
Crisis in Catalonia
Spanish Prime Minister Mariano Rajoy may be forced to play his constitutional trump card to attempt to restore order in Catalonia. On Sunday, violence erupted between activists and Spanish police, who were seeking to shut down the region's independence referendum that had been deemed illegal by the nation's constitutional court. The European Union is also refusing to recognize the results. The prime minister's primary parliamentary ally called upon Rajoy to suspend Catalonia's government and hold new regional elections to bring about a resolution of the crisis. Separatist leaders have suggested they may unilaterally secede as early as this week. Spanish bonds and stocks took a hit on Monday, with Catalan banks coming under acute pressure. Coders who favored Catalan independence where able to stay one step ahead of Spanish regional courts by setting up new apps to direct voters to polling places.
RBA on Hold
Economists unanimously expect the Reserve Bank of Australia to keep rates unchanged at a record low 1.5 percent on Tuesday amid heavy indebtedness among households and sluggish wage gains. There's also a smattering of Aussie economic data due out, with the monthly change in job advertisements for September as well as new home sales and building approvals for August slated for release. Elsewhere, the September reading of the Nikkei India manufacturing purchasing managers' index, Japanese consumer confidence for September, and Hong Kong retail sales for August are on the docket.
Go Fo(u)rth
The most volatile month of the year for U.S. stocks got started with a fresh record high for the S&P 500 Index.  A surge in the U.S. ISM manufacturing purchasing managers' index to a 13-year high buoyed the risk-on mood. And there's no shortage of catalysts to propel risk assets even higher, according to analysts. Oil performed poorly on Monday, with West Texas Intermediate futures suffering their worst day in three weeks amid higher production from OPEC and U.S. shale drillers. Nikkei 225 and S&P/ASX 200 futures are in positive territory ahead of the open on Tuesday.
What we've been reading
This is what caught our eye over the last 24 hours.
Before it's here, it's on the Bloomberg Terminal.
LEARN MORE