Europe's Left Wing Could Finally Catch a Break in This Country
By
Left-Green Movement leads in the polls ahead of Oct. 28 vote

Left-wing government would hike spending and corporate taxes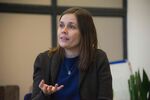 Europe's left wing parties have been suffering ignoble defeats but could soon find a spark in Iceland, a tiny outpost of 340,000 people in the north Atlantic.
A collection of socialists, environmentalists and the Pirate Party are now in ascendance and looking to unseat the conservative Independence Party in a snap election on Oct. 28. Polls put the Left-Green Movement ahead of the Independents and nearly one in two Icelanders would like its down-to-earth leader, Katrin Jakobsdottir, to be the next prime minister.
The Independence Party may find it hard to cling to power again after surviving yogurt-hurling outrage over the Panama Papers leaks in 2016. Forced out after the financial collapse in 2007, the party called a snap election under the weight of yet another scandal (outgoing Prime Minister Bjarni Benediktsson resigned after his father vouched for the character of a convicted pedophile).
Jakobsdottir, a former education minister, is preparing for a transformation.
"We want to lead the next government, a government that will stand for social welfare and the environment," Jakobsdottir said in an interview in Reykjavik. 
Europe's left wingers haven't been doing too well lately, taking a drubbing in recent elections in Germany, France, the Netherlands and Norway. But in Iceland, they could bring about significant change after four years of center-right rule (The Independents have taken part in nine out of Iceland's last 10 governments and in a total of 21 out of 32 since the country adopted a republican constitution in 1944).
Read more about why European socialist parties are struggling
Expansionary Policy
Capital Economics expects a center-left government to push for an expansionary fiscal policy, which might in turn accelerate interest rate hikes.
On top of higher spending on health care and education, the Left-Greens are proposing tax increases for big corporations, a carbon tax and a crackdown on speculative investments. It also wants to keep Landsbankinn HF, the re-incarnation of failed bank Landsbanki, in state hands.
"The elections are close and the discussion is moving fast," Jakobsdottir said. "But I believe our agenda will yield a good result."
Iceland's election will see a dozen parties compete for seats in the 63-member parliament, the Althing. Should the Left-Green Movement emerge as the biggest party, it will have to go into a coalition with several others.
Its natural ally has taken a drubbing after helping clean up the country in the aftermath of the financial crisis: The Social Democratic Alliance, which wants Iceland to join the European Union and the euro, used to command around a third of the national vote but has seen its support shrink to single-digit figures.
The Left-Greens and the Social Democrats also see a potential coalition with the Progressive Party, a euro-skeptic party which has hovered between the left and the right. Its former leader, Sigmundur Gunnlaugsson, was the first high-profile victim of the Panama Papers, resigning as prime minister in April of last year.
Gunnlaugsson has since launched a new movement, the Center Party, which is polling at around 7 percent. A good chunk of that support comes from voters who would normally cast their ballots for the Progressive Party, further complicating the political picture.
Progressive leader Sigurdur Ingi Johannsson is also a believer in fiscal stimulus.
"I believe income was underestimated last year, so there should be more resources for health care, education and roads," Johannsson told Bloomberg.
The Kingmakers
The elephant in the room is the maverick Pirate Party. A year ago it looked like it was on the cusp of becoming the first direct-democracy movement to gain power in Europe, capitalizing on the anger directed at Gunnlaugsson. Its support has since dropped, but it is still polling at around 10 percent, giving it a potential role as kingmaker.
There's also the ascending People's Party, which wants to abolish poverty and has been polling at around 8 percent.
Political realism has prompted the Left-Greens to consider forming a minority government, which is popular in a region that prides itself for its consensus politics (Norway, Denmark and Sweden are all led by minority governments).
"It might be good for Iceland to experiment with a new system," Jakobsdottir said. "It would lead to different methods of work and could have a positive effect."
Before it's here, it's on the Bloomberg Terminal.
LEARN MORE