Catalonia Should Be Allowed to Decide Its Own Future, Scotland Says
By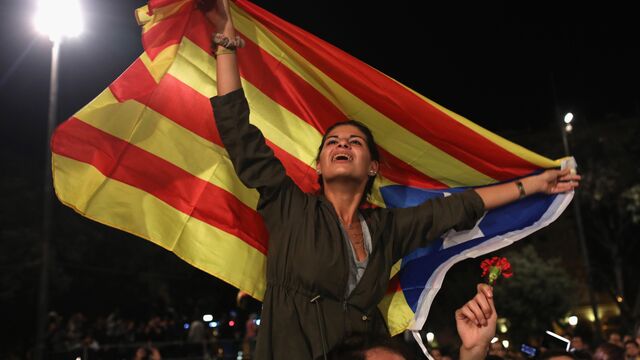 The Scottish government said Catalonia should be allowed to decide its own future, showing solidarity with the breakaway region as tension escalates over an unofficial referendum at the weekend.
Spain increased pressure on the leadership in Barcelona, threatening to suspend Catalonia's autonomy. The Madrid government sent in police to disrupt voting on Sunday, leading to violence and scores of injuries. For its part, the European Union said differences must be dealt with under the Spanish constitution.
"Spain will maintain that this vote is not legitimate but the strength of feeling demonstrated cannot be ignored by Spain, nor by the wider European and international community," said Fiona Hyslop, Scotland's minister for external affairs. "There must now be dialog to resolve this matter in a way that respects both democracy and the rule of law."
Read More: The Catalan Rebellion Is Escalating. Just How Far Will It Go?
Scotland held an independence vote in September 2014, with 55 percent of people in the end choosing to remain in the U.K. It took place after the semi-autonomous administration in Edinburgh was granted the power to organize the referendum by the government in London. The nationalist leadership has been seeking another one in the wake of Britain's decision to leave the EU after a majority of Scots voted to stay in the bloc.
Nicola Sturgeon, Scotland's first minister, criticized the U.K.'s statement on Catalonia, calling it "shamefully weak" in a Twitter post on Sunday. "A true friend of Spain would tell them today's actions are wrong and damaging."
Before it's here, it's on the Bloomberg Terminal.
LEARN MORE