Jean Coutu Loses His Lab Coat and Anger After Sale to Metro
By
Coutu family to receive more than $2 billion from acquisition

Pharmacy chain said it didn't receive or seek another bid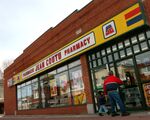 The lab coat was gone and so were the angry tirades at the Quebec government. When Jean Coutu appeared before reporters Monday to announce the sale of his eponymous pharmacy chain, he was all jokes and business rationale, sporting a dark suit and red tie.
"You notice I don't have my work outfit today," Coutu, 90, said in reference to the pharmacist's frock he's known to wear, including at shareholder meetings for Jean Coutu Group Inc. "I too can wear a suit from time to time."
The C$4.5 billion ($3.6 billion) sale to grocer Metro Inc. marks the end of an era for Coutu and his family, which started the business in 1969 with a single store in Montreal. He built the company into one of the largest pharmacy chains in Canada, with its recognizable blue and red logo seen across Quebec and in the neighboring provinces of New Brunswick and Ontario.
With the sale, the family will receive about C$2.6 billion in cash and Metro stock, while the business will operate as a separate pharmacy unit within the Montreal-based grocer. The Coutu family controls the drug company through its holdings of voting shares.
The sale also caps a roller coaster year for the Coutus. Just eight months ago, the plain-talking patriarch and his son Francois were venting their frustration with Quebec's Health Minister Gaetan Barrette's approach to cutting health-care costs, which was putting the company's generic drug business at risk. The uncertainty jeopardized the company's future development in Quebec and raised questions within the family about selling the business, which was surrounded by "hungry wolves," they'd said.
Commenting on the deal in Montreal Monday, the older Coutu had kind words for the minister, who in July struck a compromise with pharmaceutical companies to lower generic drug prices. He called Metro a friend and the ideal partner to preserve the brand and stayed away from emotional speeches, vowing to live in the future rather than the past.
Francois, currently the chain's chief executive officer, will head Metro's pharmacy unit. His father said he'll step aside, possibly retaining an emeritus title of sorts.
The father and son indicated it took a lot of time and reflection to sell one of Quebec's most recognizable companies. Francois said they received no other bid, nor sought any.
In the words of his father, just as "a young man who has just one girlfriend."
Before it's here, it's on the Bloomberg Terminal.
LEARN MORE