Balance of Power: Vegas Shooting May Shift Focus to Familiar Gun Debate
By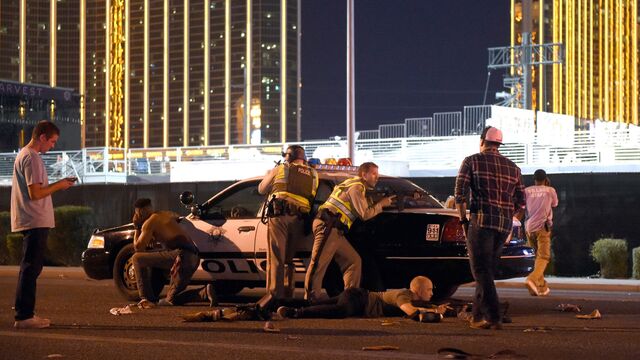 The mass shooting in Las Vegas will refocus attention on the political stalemate over gun control laws, thrusting U.S. President Donald Trump into a fresh test of his leadership.
At least 50 people were killed and more than 200 injured in the attack by a solo gunman at an outdoor country-music concert on the Vegas strip, police said.
That toll makes it the deadliest mass shooting in modern U.S. history, according to the Associated Press. It follows the June 2016 attack at an Orlando night club that left 50 dead, including the shooter. The Orlando assailant claimed allegiance to Islamic State, though authorities found no evidence he was directly linked to the group.
There was no immediate indication the attack Sunday night was related to foreign terrorism. And it's unlikely to break the impasse that stymied efforts for stricter gun controls after the 2012 shooting at Sandy Hook Elementary School in Connecticut.
But Trump's allies and adversaries alike will be watching to see how he handles the situation. As a candidate he drew widespread criticism for his response to the Orlando shooting when he tweeted, "Appreciate the congrats for being right on radical Islamic terrorism."

Sign up to receive the Balance of Power newsletter in your inbox, and follow Bloomberg Politics on Twitter and Facebook for more.
Global Headlines
Trump picks latest fight | Days before heading to hurricane-ravaged Puerto Rico, Trump suggested islanders struggling without basic services were lazy, and that the mayor of its largest city was an "ingrate." The comments' racial undertones — which left Republicans sweating their already fraught relationship with Latino voters — were reminiscent of discord Trump sowed following violence in Charlottesville and NLF players' national anthem protests.
Catalan crisis escalates | Separatists may announce independence this week after police injured hundreds of activists as they sought to shut down an illegal referendum on seceding from Spain. A unilateral declaration by leaders in the semi-autonomous region would have no legal force but would constitute a historic challenge to Prime Minister Mariano Rajoy. Spanish stocks and bonds declined along with the euro. Click here to view a selection of photos cataloging the vote and violence yesterday.
Trump vs. Tillerson | Trump said his top diplomat was "wasting his time'' seeking talks with North Korea, after Secretary of State Rex Tillerson revealed the U.S. retains several direct channels to Pyongyang. The public rebuke by the president, who has repeatedly threatened to destroy North Korea, further highlights the split in his administration on how best to get Kim Jong Un to halt his nuclear weapons program.
May's dilemma | Theresa May will seek to stamp her authority on an increasingly fractious Conservative Party at its annual conference beginning today, after Foreign Secretary Boris Johnson challenged the British prime minister's strategy on leaving the European Union for the second time recently. There's little appetite for a leadership race after the trauma of the June election, but May might just be too politically weakened to end the infighting.
Bad news for Apple | The Republicans' tax plan could take a bite out of Apple Inc. and other multinational companies. Lynnley Browning takes a closer look at a provision that would create a tax on foreign profits. It carries multibillion-dollar implications for some of the companies Trump and his fellow Republicans say would benefit from a proposed decrease in corporate rates.
And finally… The trial started today in Malaysia over an assassination straight out of a spy novel: the murder of Kim Jong Un's estranged half brother Kim Jong Nam at Kuala Lumpur airport with VX nerve agent. Authorities are expected to detail a painstaking plot formed over many months, but the only people on trial are two Southeast Asian women who say they believed they were part of a prank for a reality TV show. The alleged North Korean masterminds? They left Malaysia months ago.

Before it's here, it's on the Bloomberg Terminal.
LEARN MORE