Brazil's Presidential Race Remains Wide Open, Polls Say
By and
Former President Lula extends lead but may not be able to run

Far-right lawmaker Bolsonaro consolidates in second place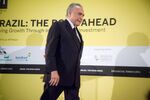 Brazil's 2018 presidential race remains wide open as half a dozen potential contenders across the political spectrum stand a chance to win the country's top job, opinion polls show.

After years of recession, political crisis and corruption scandal, Brazil's electorate is deeply divided with former President Luiz Inacio Lula da Silva of the leftist Workers' Party extending his lead while far-right congressman Jair Bolsonaro consolidates in second place, two polls showed over the weekend. Yet Lula may not be allowed to run if a higher court upholds a corruption sentence against him, leaving the race even more unpredictable.
"2018 is a desert, a wide open field where anything can happen," said Joao Paulo Peixoto, professor of politics at the University of Brasilia. "It's the same corrosion of politics that led to the election of an outsider in 1989," said Peixoto in reference to former President Fernando Collor, who took power after challenging the traditional parties at the time.

Such uncertainty is weighing on investor sentiment and may be slowing the country's recovery. Latin America's largest economy is struggling to gain speed after two years of recession exacerbated by a political scandal that helped oust President Dilma Rousseff in 2016 and engulfed her successor, Michel Temer. 
Lula, despite being convicted in the same corruption investigation in July, extended his lead in a Datafolha poll published by Folha de S.Paulo newspaper on Sunday. He now gets at least 35 percent of voter intention, compared to about 30 percent in June. Some Lula supporters believe his efforts to help the poor outweigh any possible wrongdoing, while others are left-wing ideological die-hards, according to Peixoto.
On the opposite end of the political spectrum, Bolsonaro, a former Army captain known for his homophobic and sexist outbursts, has clocked some of the biggest gains in recent months, receiving 16 percent to 17 percent of votes depending on the scenario.
The fragmented nature of the race, particularly without Lula in it, was confirmed by another survey from Parana Pesquisas pollster published on Saturday and by a MDA poll on Sept. 19.
"Lula could win, Bolsonaro could win, or a candidate from the center," said Peixoto from the University of Brasilia.
A laundry list of candidate follows, each with considerable potential to grow, analysts say.
Marina Silva, the environmentalist who ended third in the 2014 presidential election, comes in third with 13 percent to 14 percent of votes.
Market-friendly names including those of Sao Paulo Mayor Joao Doria and Sao Paulo Governor Geraldo Alckmin trail with 8 percent of voter intention.
Finance Minister Henrique Meirelles, a market favorite, would have only 2 percent of votes according to the Datafolha poll, which has a margin of error of plus or minus 2 percentage points.
Before it's here, it's on the Bloomberg Terminal.
LEARN MORE