U.K.'s May Fights Plotters as Johnson Declares Brexit Red Lines
By and
Conservative Party conference clouded by election fiasco

Foreign Secretary pulls another another surprise intervention
U.K. Prime Minister Theresa May needs to boost her appeal and win over young voters at her party's annual conference next week in a push to revitalize her flagging premiership after a disastrous election in June.
May is trying to persuade critics inside her Conservative Party to let her stay on as leader, as her allies fear she faces plots from supporters of cabinet rivals including Brexit Secretary David Davis and Foreign Secretary Boris Johnson, who on the eve of the big event delivered new warnings about Brexit.

As she heads to Manchester this weekend, May knows that she has ground to make up after her gamble on an early vote cost the Conservatives their majority in Parliament and put Labour's Jeremy Corbyn within striking distance of power. 
In a sign of the seriousness with which she is treating the Labour threat, May will directly challenge Corbyn's plans and seek to win over younger voters who overwhelmingly backed the radical socialist at June's election. Labour is "simply not fit to govern" and will hit working people with "higher taxes and fewer jobs," she said.
"I understand the concerns raised, particularly by young people, during what was a disappointing election for my party," the prime minister said in comments released by her office Saturday. "The social contract in our country is that the next generation should always have it better than the last. Conservatives have a plan to make that a reality."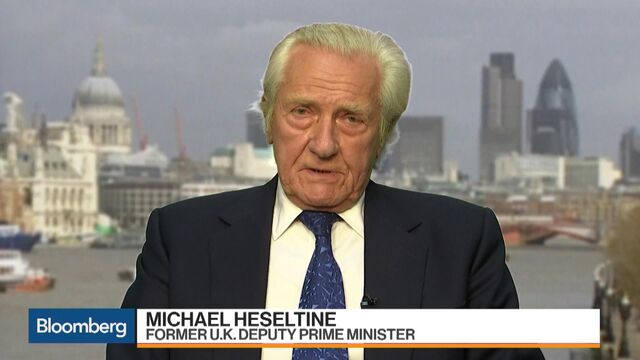 The Conservative Party's annual conference comes against a backdrop of recriminations over May's failed election gamble and divisions within her cabinet over Brexit policy. Tory lawmakers and ministers privately warned in the aftermath of the June vote that May would not be allowed to lead the party into the next election in 2022. She has since insisted she will stay on and has begun to fight to keep her job.
Boris Again
Johnson delivered his latest surprise on the eve of the conference, warning in a Sun interview that he had four "red lines" for May on Brexit. The transition should be two years and "not a second more," the U.K. should stop accepting new EU rules or court decisions during the transition and stop paying for access to the single market after the period ends, he said in the interview.
At weekends and during the recess, May has launched what's becoming known as her Chequers charm offensive -- inviting Tories to her 400-year-old official country residence 40 miles (64 kilometers) outside London for canapes, sparkling wine and home-made chocolates.
The prime minister has her work cut out. Tories remain angry about the organizational failures that led to the election, while an undercurrent of squabbling at the highest levels is hampering the business of government.
One cabinet aide, speaking on condition of anonymity because the subject is sensitive, likens the party to ferrets fighting in a sack, and compares the mood to the dying days of former Tory Prime Minister John Major's administration, when rows over Europe dominated the agenda.
A leading euroskeptic, Davis was a key adviser to May in the run-up to the election and among the most influential of her team in persuading her to call the early vote.
Davis Lurks
After the election, his name was repeatedly linked in the media to leadership speculation, with surveys of party members making him the most popular choice to replace May in the summer. Newspapers reported that Davis's supporters were canvassing for a potential leadership bid on his behalf.
Tories who remain loyal to May say her team has lost trust in Davis as a result. May's aides believe Davis could have shut down the leadership rumors if he had wanted to, according to people familiar with the matter speaking on condition of anonymity because the discussions were private.

In recent days May has moved to take control over Brexit policy from Davis's department, poaching his most senior official, Oliver Robbins, to take a new role running EU policy within her inner team.
In Brussels, EU officials are said to be growing frustrated with Davis, believing him to be an obstacle in Brexit negotiations because he seems to take a more hard-line stance than May. In her speech in Florence a week ago, May promised the U.K. would honor its commitments -- code for paying the Brexit bill.
Europe's Despair
Arriving for the latest round of talks in Brussels on Monday, Davis warned the U.K. would only settle the bill if the EU agreed a new trade deal at the same time. Behind closed doors, too, Davis was said to have taken a more combative tone than May in talks, according to a person familiar with the matter who asked not to be named because the discussions were private.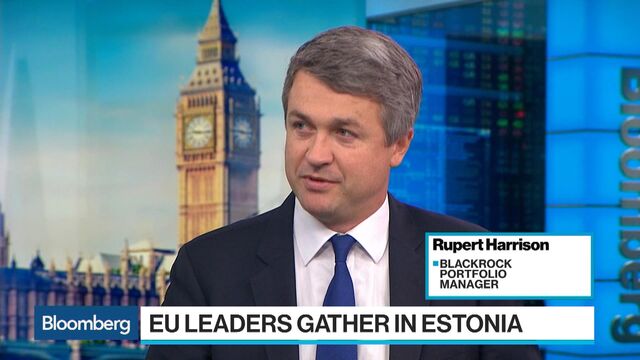 However, Davis's task in the negotiations was to work through the details and reach pragmatic agreements after May's speech in Florence. "We are laying out concrete proposals and there are no excuses for standing in the way of progress," he said at the start of the latest round of talks Monday.
"A split at the top of the Tories over Brexit will mean yet more delay in trying to get to the meat of the negotiation,'' said Ivor Gaber, professor of political journalism at the University of Sussex and a contemporary of Davis at Warwick University in the late 1960s. "The Europeans must look at Britain and despair."
According to one minister, the Tories are facing a bleak future because Corbyn's Labour Party is surging ahead in the polls, while all of the potential candidates for the Tory leadership have major drawbacks.
Lunch Guests
While trying to outrun her challengers, May also needs to keep the support of rank-and-file Tory members of Parliament in order to stay in place.
Before the election, May's office in 10 Downing Street ran a tight ship, strictly controlling access to the premier and enforcing iron discipline on the rest of the party. Since she lost her majority, however, the tables have turned.
"The prime minster's team are working hard to keep the party united," said Andrew Bridgen, a Conservative member of Parliament.
May's new chief of staff, Gavin Barwell, hosts regular consultation lunches with Tories. Guests are invited to dine at the famous casket-shaped cabinet table, on meals of sandwiches, potato chips and soft drinks. That's a change from his combative predecessors, Nick Timothy and Fiona Hill.
"These things are important now that we have lost our majority," said Bridgen. "In adversity, we must all hang together, or we will all hang separately."
— With assistance by Nikos Chrysoloras
Before it's here, it's on the Bloomberg Terminal.
LEARN MORE