Boris Johnson's Latest Blunder Overshadows His Brexit Challenge
By
Foreign Secretary caught reciting colonial-era poem in Myanmar

Hours earlier he'd challenged May by issuing Brexit red lines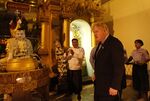 Yet another blunder by gaffe-prone Boris Johnson is tarnishing the U.K. Foreign Secretary's latest challenge to his boss on the eve of the Conservative party annual conference.
During a January visit to Myanmar's holiest Buddhist site, he began to recite a colonial-era poem before being cut off mid-sentence by the British ambassador. "You're on mic. Probably not a good idea," he was told. To which the top diplomat responded: "What, The Road to Mandalay?" The answer: "No. Not appropriate." The poem by Rudyard Kipling is nostalgic about Britain's colonial past in Burma.
Read about some of his greatest hits even before he became the top diplomat
The moment was captured by a Channel 4 film crew and will be aired in its entirety on Sunday as part of a one-hour documentary entitled "Boris Johnson: Blond Ambition" with a tag line asking "will he ever be prime minister?" A YouTube clip surfaced Saturday and rapidly hogged U.K. headlines.
In a way, the timing couldn't be better for embattled Prime Minister Theresa May as she tries to get her errant foreign secretary to stop freelancing on Brexit. Johnson has now twice undermined her strategy in key moments. First in lead-up to her big speech in Florence, and once again late Friday by listing for the Sun his four red lines on Brexit.
Before it's here, it's on the Bloomberg Terminal.
LEARN MORE