UKIP Names Little-Known Bolton Leader as Party Seeks Relevance
By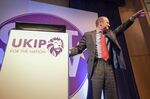 The U.K. Independence Party surprisingly elected former Army officer and policeman Henry Bolton to become its fifth leader in just over a year as it seeks to regain relevance 15 months after Britons voted to leave the European Union.
Bolton beat six other candidates, including the bookmakers' favorite, Anne-Marie Waters, whose candidacy had threatened to fracture the party because of her rigid anti-Islam stance. He takes over from acting leader Steve Crowther, who stepped in after Paul Nuttall quit following UKIP's disastrous general election performance in June.
Bolton faces the thorny task of reuniting a party riven by infighting since it achieved its defining goal of securing Britain's vote to leave the EU in last year's referendum. In June's general election, the party failed to win any seats after winning one at the previous election in 2015, and its vote share plummeted to 1.8 percent from 12.6 percent. Bolton told delegates at UKIP's annual conference in Torquay, Southwest England, that his main task is holding the government to account over Britain's EU departure.
"Brexit is our core task," he said in the televised address. "We want to be responsible for our own destiny, not have it decided in a foreign capital."
Before it's here, it's on the Bloomberg Terminal.
LEARN MORE