U.K. Consumers Display Resilience as Saving Ratio Climbs
By
Households saved 5.4% of their income in 2Q Vs 3.8% in 1Q

Economy shows more balance as investment, trade add to growth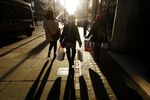 The British consumer may be in better health than previously feared.
Figures from the Office for National Statistics Friday show households saved more of their disposable income in the second quarter. And incomes rose faster than prices for the first time in a year.

GDP as a whole grew an unrevised 0.3 percent, the same as in the previous three months. Separate figures showed the current-account deficit widening slightly.
The pickup in the saving ratio, to 5.4 percent from an upwardly revised 3.8 percent in the previous three months, may boost hopes that households have enough in reserve to maintain their spending without having to go deeper into debt.
That's good news for an economy that depends heavily on consumer spending, and may boost speculation that the Bank of England is on the verge of raising interest rates for the first time in a decade.
There were also signs of a rebalancing in the economy in the second quarter. Business investment rose 0.5 percent -- better than first estimated -- and trade contributed 0.4 percentage point to growth, aided by the weak pound. GDP growth in the first quarter was also revised up.
The figures emerged as the statistics office announced sweeping revisions to past data on the national accounts and balance of payments.
Dividend Payments
The saving ratio has been higher than previously thought, partly reflecting the fact that household income was much higher in 2015 than last estimated as business owners paid themselves dividends early to beat a tax increase that took effect in April 2016. While the saving ratio subsequently declined, it did so from a higher starting point.
Recent surveys suggest consumer spending remains resilient. Adjusted for inflation, disposable income rose 1.6 percent in the second quarter, the first increase since the same period last year. Consumer spending grew 0.2 percent instead of 0.1 percent.
Warning Signs
But the pound fell 0.5 percent on some warning signs about the third quarter, paring its loss this month to 3.5 percent. Services, the largest part of the economy, unexpectedly contracted 0.2 percent in July.
The ONS also said the current-account deficit widened to 23.2 billion pounds in the second quarter. That equates to 4.6 percent of GDP, compared with 4.4 percent in the first quarter. The trade deficit narrowed marginally, but the gap between what British investors earn on their foreign investments and what foreigners earn on their investments in Britain widened.
Revisions center on the discovery that nonresidents earned more on their U.K. corporate-bond holdings than first thought. As a result, the current-account deficit was higher in 2015 and 2016, showing what BOE Governor Mark Carney meant when he warned of Britain's reliance on the "kindness of strangers."
— With assistance by Harumi Ichikura, and Mark Evans
Before it's here, it's on the Bloomberg Terminal.
LEARN MORE