Politics
The Few Democrats on Trump's Voter Fraud Panel Push Back
Dems are outnumbered, but they play a key role in fighting claims of widespread voter fraud.
By and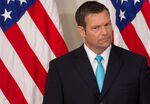 There's a story that's been going around over the past several months about busloads of people from Massachusetts driving into New Hampshire to vote illegally in last year's election. President Trump told it to a group of senators in February, as part of a story about why he lost in New Hampshire. The head of his voter integrity panel, Kansas Secretary of State Kris Kobach, alluded to it in a Sept. 7 article on Breitbart.com. He also cited data made public by New Hampshire's Republican House speaker that more than 5,000 people with out-of-state driver's licenses had voted in New Hampshire in November. In his Breitbart piece, Kobach used those statistics to conclude that the outcome of the state's Senate election, won by Democrat Maggie Hassan, and the awarding of its four electoral votes, which Hillary Clinton won by 0.4 percent, were "likely changed through voter fraud."
New Hampshire is a strange state to accuse of voter fraud. First, it's tiny, with just 1.3 million people. Second, New Hampshire votes a lot more than most other states, electing its governor, lawmakers, and other state officials every two years instead of four. Bill Gardner, New Hampshire's Democratic secretary of state, and also one of five Democrats on Trump's 12-member voter fraud commission, has overseen 490 elections in his 41 years on the job. And while he says there are discrepancies in almost every election, including a handful of fraudulently cast votes, Gardner insists there's no evidence to support claims that the problem is rampant.
The issue came to a head this month during the second meeting of the election integrity commission, which just so happened to be held in New Hampshire. The event, at Saint Anselm College in Manchester, did not lack for conflict and gave the first indication of the divisions that exist among panel members. With protesters outside waving "Vote Free or Die" banners, Kobach was lambasted by two of the committee's Democratic members, including Gardner, for his assertion that the state was the victim of widespread voter fraud that tipped elections in Democrats' favor. 
Moments before the meeting got under way, Democratic U.S. Senator Jeanne Shaheen issued a statement condemning Kobach's use of "slippery words" to convey a conclusion for which he offered no evidence. Shaheen, who served six years as New Hampshire's governor, denied any significant voter fraud in her state and called the phenomenon "extremely rare," there and across the nation.

Gardner criticized Kobach's contentions, grousing that the numbers cited in his article "don't create proof." Moments later, Maine Secretary of State Matt Dunlap, probably the commission's most outspoken critic, said that drawing a connection between out-of-state licenses and voter fraud was tantamount to claiming money found in a wallet is the result of bank robbery. "I think that's a reckless statement to make," Dunlap said.
By then, another Democratic member, Alabama Probate Judge Alan King—who was absent from the Manchester meeting—had submitted a five-page memorandum detailing his concern that the commission was looking for ways to keep people from voting. King's memo lent an insider's voice to the worries of many voting rights activists that the panel's Republican majority is simply using it to assemble the justification for adding restrictions to America's voter registration and balloting process. Earlier this year, Kobach was fined $1,000 by a U.S. judge who found he'd misled the court about the contents of a document he shared with then-President-elect Trump about possible changes to federal voter registration law. Kobach has long advocated adding a proof-of-citizenship requirement to registration forms.
Among Kobach's allies are former U.S. Department of Justice official Hans von Spakovsky, now a resident scholar at the conservative Heritage Foundation, where he's amassing a voter fraud database, and J. Christian Adams, president of the Public Interest Legal Foundation and a former Justice Department attorney during the George W. Bush administration. Adams's group has also published reports titled "Alien Invasion" and, more recently, "Alien Invasion II: The Sequel to the Discovery and Cover-up of Non-Citizen Registration and Voting in Virginia."
"This is a pretty partisan commission," said Ohio State University election law professor Daniel Tokaji. "I guess there are a couple of people at least with Democratic affiliations. They're certainly not prominent people in this elections sphere, nor, to this point, have they been particularly vocal in raising the other side of this debate."

But that seems to be changing. After more than five hours, the meeting ended almost as awkwardly as it began, with Kobach giving careful answers to a barrage of questions. It's unclear what, if anything, was accomplished, other than to remind everyone that there are Democrats on the panel who disagree with some of the basic tenets of its apparent mission. Though they've taken heat from progressives for participating, and thereby giving the panel a veneer of bipartisan credibility, the commission's Democratic members are beginning to see themselves as a check against what they view as baseless claims of widespread voter fraud.
"I know we are outnumbered," said Democrat David Dunn, a commission member and former Arkansas legislator who has been urged by acquaintances to step down but has so far refused. "Why would you resign?" he said. "Why would you turn it over to the exact people that you're afraid of doing something that would harm your access to the polls?" Wood County, W.Va., Clerk Mark Rhodes missed the Manchester gathering and the attendant fireworks due to a scheduling conflict. He called the dissension a positive. "Differences of opinion turn out to make good discussions," he said, adding that he's comfortable with the commission's work, as long as it's based on fact, not opinion.
At least one of the panel's Republican members was concerned about including Democrats. While commission members met and argued in Manchester, a Washington-based watchdog group made public an email written by von Spakovsky in February—prior to the members' selection—that eventually made its way to U.S. Attorney General Jeff Sessions. In it, von Spakovsky bemoaned plans to make the panel bipartisan, stating, "There isn't a single Democratic official that will do anything other than obstruct any investigation of voter fraud."
Even mainstream Republicans, he said, were likely to be insufficiently familiar with the issues in play, ensuring the body's efforts would end in "abject failure."
Responding through a foundation spokeswoman to a request for comment, von Spakovsky backed away from his strident tone, stating in part, "After my own participation as a member, I'm confident that all the members of the Commission are committed to uncovering the truth about election integrity and the other issues present in our election system and developing recommendations to safeguard and improve the voting process."
Despite the lack of evidence that fraud is a widespread problem, the issue of tightening access to the polls reverberates among most voters. An August 2016 Gallup poll found that 80 percent of Americans support voter ID laws. And, sparked by Republican dominance of state governments and the 2013 U.S. Supreme Court decision to gut Section 5 of the Voting Rights Act, conservative legislators are making a sustained effort to pass more restrictive voting laws. In 2017, 35 bills that would have made it more difficult to vote in 17 states made it past the committee level, according to a survey by the left-leaning Brennan Center for Justice.
Trump's voter commission still has almost two years to complete its work and submit a report to the president. The nightmare scenario for the commission's critics is that it will release a final report contending that there's rampant voter fraud in the U.S. and inadequate means to detect or prevent it. Such a report could be a springboard for Congress to enact tougher, more-restrictive rules at the national level similar to what's been done in a handful of states. 
Dunn, the Democratic commission member and former Arkansas legislator, said that the restrictive law passed in Arkansas was driven not by actual voter fraud but by the belief that people were casting ballots illegally. Dunn criticized the state's new voter ID law, saying the burden would fall most heavily on those who don't have the requisite identification and for whom simply going to get one would be a hardship.
While Dunn said he hopes his presence on the panel will help steer the debate toward those issues, Maine's Dunlap put it more plainly: "If you're not at the table, you're on the menu."
Before it's here, it's on the Bloomberg Terminal.
LEARN MORE