Sun Co-Founder Gets Secretive Hedge Fund to Make a Huge Chip Bet
By
Bill Joy sees DRAM chip market shedding its cyclical past

Joy persuades Water Street to stop shorting Micron and go long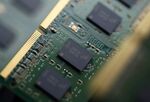 Sun Microsystems co-founder Bill Joy recently joined Water Street Capital and has pushed the secretive hedge fund firm to build a large stake in Micron Technology Inc., arguing the market for its main product is set for a sustained boom without the wild ups and crushing downs of the past.
The rise of cloud computing, artificial intelligence, and augmented and virtual reality applications on Apple Inc. iPhones and other high-end smartphones will spur stronger demand for DRAM chips, Joy wrote in a recent memo to Water Street founder Gilchrist Berg and other executives at the firm.
DRAM supply is likely to fall well short of this demand as it becomes increasingly difficult and expensive to churn out more capable chips, and a smaller number of manufacturers behave more rationally to maintain profit, Joy added.
These arguments are well-known in the business, driving the spot price of these chips up more than 70 percent in the past year. What's unusual is Joy's conclusion that the market for dynamic random-access memory chips -- DRAM -- will no longer be whipsawed by oversupply and fluctuating demand.
"With the DRAM industry untethered from its highly cyclical past, we believe chip prices and company earnings are going to be and remain higher for longer than investors currently expect," Joy wrote in the memo, which was obtained by Bloomberg.
Shares of Micron, which competes with industry leader Samsung Electronics Co. and SK Hynix Inc. in the DRAM market, could trade as high as $64, almost 70 percent above Thursday's levels, Joy predicted. Micron stock rose 3.6 percent to $39.33 in New York on Friday.
Water Street, which hired Joy as a principal at the firm in May, has taken his advice, investing about a quarter of its total assets in Micron stock and options. The firm's equity portfolio is worth about $2.5 billion, according to data compiled by Bloomberg, although its total assets under management are larger.
That's a big change for Water Street, which shorted, or bet against, Micron and other DRAM chipmakers as the industry went through severe cycles in the 1980s, 90s and early 2000s. Water Street has made successful tech investments before, having bet big on Apple shares in late 2003, long before the iPhone became a money-maker.
While some analysts agree with Joy's theories, they're wary of calling an end to the industry's cycles because manufacturers have shown time and again that they can't resist the urge to churn out more DRAM chips in ever more efficient ways. The components store data for processors to manipulate, and the more capable DRAM chips you have the faster your device. That makes them key ingredients in data-center servers, personal computers and mobiles devices. However, the industry has historically struggled to match new capacity with swings in demand.
"We've been through these cycles before. When you're near the top it always looks this way," said Anand Srinivasan, a semiconductor and hardware analyst at Bloomberg Intelligence. "Participants look very rational in tight memory markets like this one, but that can change."

Micron shares have already surged 73 percent this year before Friday, while short interest, a measure of bets against the stock, has dropped to 1.7 percent recently from more than 6 percent at the end of 2014, according to data compiled by Bloomberg. Sanford C. Bernstein analyst Mark Newman has a market perform rating on the stock partly because most of the strong DRAM market is already reflected in the shares.
Srinivasan sees the DRAM market staying strong through 2018, but after that, he said anything is possible. If Samsung adds DRAM capacity, that could "break" the market, he said. That company is close to completing a new chip plant that's about a mile around. Newman called it a "monster."
But Joy and Water Street think this time is different because of the unusual confluence of new sources of demand and the lack of new capacity built by DRAM suppliers in the past seven years or so. Joy has long experience in this market because Sun used to be one of the largest buyers of DRAM chips.
As these components get smaller it becomes more expensive to make them and the difference between the best versions and the most-common ones won't be as significant, Joy wrote. One way DRAM makers get more memory onto chips is to shrink the size of the transistors to squeeze more bits onto each tiny silicon wafer. These chips are becoming so small that each round of shrinking is adding fewer extra bits per wafer. This will keep a lid on the supply of DRAM capacity in the future, according to Joy's thesis.
Joy also wrote that Micron may get a boost from Apple, a big DRAM buyer that's keen to have alternatives to Samsung, its main smartphone rival. The latest iPhones have AI and augmented reality capabilities that require more memory. Joy expects the amount of DRAM per iPhone to reach more than 10 gigabytes from about 2 GB today.
Samsung's new plant is focused on making NAND chips, a different type of memory, and the Korean company was not expecting future iPhones to require so much DRAM, according to Water Street's memo.
DRAM buyers are even committing to longer-term contracts now, which should provide suppliers like Micron with more predictable and profitable growth, Joy added.
"This new-found prosperity in the DRAM industry will persist for longer than investors currently believe," Joy concluded, while advising Water Street to hold Micron shares for the long term.
— With assistance by Ian King
Before it's here, it's on the Bloomberg Terminal.
LEARN MORE