Prosegur Sends Guards to Catalonia as Clients Boost Security
By and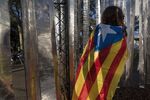 Private security provider Prosegur Cia de Seguridad SA is sending more guards to Catalonia to reinforce operations ahead of an illegal independence referendum, according to a person familiar with the matter.
Prosegur started sending additional security guards to the region following requests for increased security from clients, according to the person, who asked not to be identified by name.
Companies are stepping up security measures in response to increased tensions as the Catalan regional government pushes ahead with the organization of the Oct. 1 referendum, which has been ruled illegal by Spain's constitutional court. The national government is seeking to block the vote with an array of measures, including taking control of Catalan finances and the regional police, as well as sending extra security forces from around Spain to Catalonia in north-eastern Spain.
A spokesman for Prosegur declined to comment when contacted by phone Friday.
Before it's here, it's on the Bloomberg Terminal.
LEARN MORE