Oracle's Larry Ellison Adds $2.9 Billion to His Fortune
By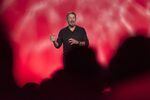 Larry Ellison added $2.9 billion to his fortune early Friday after Oracle Corp.'s 2017 proxy filing showed he had reduced the number of his pledged shares by almost a fifth.
Ellison, 73, owns 1.17 billion Oracle shares -- about 28 percent of the company -- and has pledged 260 million of them to secure "certain personal indebtedness," according to Thursday's filing. Last year's proxy showed he had pledged 315 million shares as of Sept. 19, 2016. The Redwood City, California-based company declined to comment.
Ellison may be benefiting from the run-up in Oracle's stock. The value of 260 million shares today is $12.6 billion, about the same as 315 million were worth a year ago, thanks to a 24 percent rise in Oracle shares over the past 12 months.

The billionaire is the eighth-richest person on the Bloomberg Billionaires Index and has a history of using pledged shares to fund a lavish lifestyle, which includes trophy properties, America's Cup teams and the Indian Wells tennis tournament. His accountant, Philip Simon, suggested that Ellison "budget and plan" because his spending habits were becoming difficult to maintain, the San Francisco Chronicle reported in 2006.
Quotes from this Article
Before it's here, it's on the Bloomberg Terminal.
LEARN MORE