Trump Says He'll Likely Decide Today on Health Secretary Price's Fate
By and
HHS Secretary Price now faces scrutiny for military jet use

Pruitt, Zinke also facing questions amid tax-plan rollout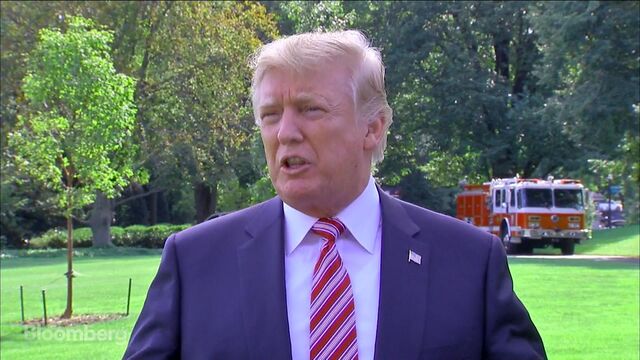 President Donald Trump said Friday he will probably decide by the end of the day whether to keep embattled Health and Human Services Secretary Tom Price, whose use of taxpayer-funded private jets has exploded into a political controversy.
"I'm not happy, I can tell you I'm not happy," Trump told reporters on the White House lawn on his way to board the Marine One presidential helicopter. "Probably today something will happen. Something will be announced."

Trump returned to the subject minutes later as he boarded Air Force One, en route to his golf club in New Jersey. Trump said he was "disappointed" with the cabinet secretary. Asked if Price had offered his resignation, Trump responded, "No, but we'll see what happens later on."
Price, whose travel habits already had drawn the president's ire, now faces scrutiny for using military jets that reportedly put his total travel tab above $1 million.
Trump said Price is "a very fine person" but "I certainly don't like the optics."
Environmental Protection Agency Administrator Scott Pruitt is also drawing attention, as a report said he took private or military planes at least four times, costing taxpayers more than $58,000.
And Interior Secretary Ryan Zinke chartered a domestic flight on a plane owned by energy executives, another report said.
It all follows scrutiny of Treasury Secretary Steven Mnuchin's travel earlier this year, and threatens to distract from this week's rollout of a tax plan with heightened importance to Republicans after their failure to repeal Obamacare and fulfill a key campaign pledge.
Foreign Trip
Price used military planes -- with White House approval -- to travel to Africa, Europe and Asia this year, Politico reported Thursday. The trips were to discuss global health security and other issues with leaders in various countries, an HHS spokesperson said.
The news came hours after Price said he would reimburse taxpayers for a fraction of the cost of his domestic flights aboard private aircraft. Price will pay $51,887.31 for his share of the costs, according to HHS. There were at least 26 private flights since February with costs totaling more than $400,000, Politico reported.
The White House defended the use of military jets, saying the administration has reduced the number of such flights by officials compared to the Obama administration's first eight months.
"Use of military aircraft for cabinet and other essential travelers is sometimes an appropriate and necessary use of resources," said Raj Shah, a White House spokesman. "The White House reviews requests for military air travel closely and has limited support missions to travel that is central to the White House's mission, such as for international trips and travel for which military air is necessary and appropriate."
The White House has signed off on 77 military flights for administration officials in Trump's first eight months in office, compared to 94 during the first eight months of the Obama administration, according to an administration official, who requested anonymity to describe the travel approval process. The White House did not respond to a request seeking a list of all approved military flights.
White House press secretary Sarah Huckabee Sanders said Thursday the Trump administration has started a review of its travel policy, and has halted private air travel in the meantime. The White House didn't authorize Price's private air travel, Sanders said.
Price expressed regret for the controversy caused by his private travel, and said he would not continue to use private planes while a review is conducted by his department's inspector general.
"It is clear to me that in this case, I was not sensitive enough to my concern for the taxpayer," Price said Thursday in a statement. "I know as well as anyone that the American people want to know that their hard-earned dollars are being spent wisely by government officials."
Possible Firing
Trump said Wednesday that he was looking "very closely" at the possibility of firing Price.
"I'm not happy with" Price's travel, Trump told reporters.
Trump, when asked Thursday by a reporter if he would fire Price, walked away and didn't answer.
Other Officials
The White House approved Pruitt's use of military jets, and the charter flight was approved internally, the EPA said after the Washington Post reported on his trips.
"Administrator Pruitt only took one charter flight, as approved by EPA's ethics counsel. If a reimbursement was necessary, we would have been told during the approval process and acted accordingly," agency spokeswoman Liz Bowman said.
Zinke flew from Las Vegas to Montana, his home state, in June aboard a plane owned by the executives of a Wyoming company at a cost to taxpayers of more than $12,000, the Post reported, citing a department spokeswoman who said the secretary's charter flights were authorized by ethics officials.
A department official said Zinke has never met the energy executive who owned the plane, and that the charter plane company he used has been a vendor of the federal government for years.
During a speech at the Heritage Institute on Friday, Zinke said he has used charter flights three times as secretary, including once in the U.S. Virgin Islands. He said he only flew on private and military aircraft when when there were no other options available, and called negative coverage of Cabinet members' travel "a little B.S."
"Taxpayers absolutely have the right to know official travel costs," he said. "I fly coach."
The travel by Trump administration officials has drawn scrutiny from Congress. The House Oversight and Government Reform Committee sent letters to the White House and 24 federal agencies this week requesting information about all travel on private planes and military aircraft by administration officials.
Protecting Taxpayers
Mick Mulvaney, director of the Office of Management and Budget, said Friday he has only taken one military plane during his tenure.
Mulvaney, who is helping sell the GOP's tax plan, has backed sharp cuts in spending and said the Trump administration will place a higher emphasis on protecting taxpayers.
"I've been on one military jet in my entire life, and that was to visit the president in Mar-a-Lago," he said in an interview. "And that's the only time."
— With assistance by Jennifer Jacobs, Anna Edney, and Jennifer A Dlouhy
Before it's here, it's on the Bloomberg Terminal.
LEARN MORE