Has Apple Finally Made a Dud iPhone?
Five big ideas that made the week interesting, and the stories behind them.
By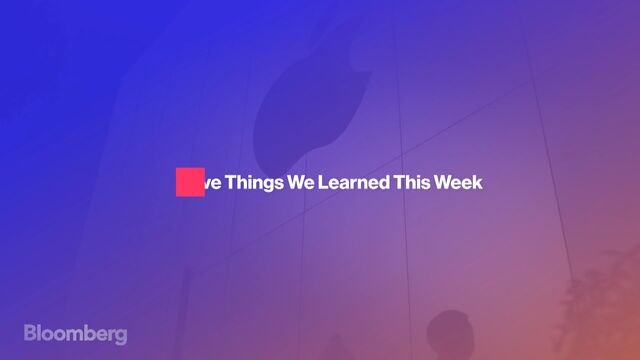 1) Shares of Apple and Suppliers Are Falling
There were years when Apple would release a new iPhone that didn't feel like a huge advancement, but sales were off the charts anyway. This year, we're seeing signals that maybe, just maybe, people won't be rushing to buy the new iPhone 8. Shares in some suppliers have fallen 10 percent or more since the end of August, particularly after an analyst predicted that pre-orders for the iPhone 8 were "substantially lower" than for previous new models. Customers could be waiting for the X model instead. Or, Bloomberg's Alex Webb notes, people could just be ordering online or through the company's upgrade program. The latest line of products has had so-so reviews. Investors could be cashing out. 

2) The Oil Bust Town That Feels Like a Boom Town
Oil is back to around $50 a barrel from a high of over $100? You wouldn't know it from the Permian Basin. The area described by Dan Murtaugh as "the hottest oil patch anywhere on Earth" is still thriving. The average sale price of a new home in the metro area of Midland rose 8.5 percent in a year, while the number of active rigs has more than doubled since May 2016, Murtaugh reports. Oil workers and executives who have lived through many cycle busts are nervous that another one is just around the corner.

3) Chinese Tech Salaries Are Bubbly
Asked what he would pay for great employees, the founder of a tech company had a simple answer. "Unlimited salary for unlimited talent," said Zhang Yiming of Beijing ByteDance Technology Co. For some top performers, that can mean $3 million or more, according to people familiar with the company's hiring. And it's not just Zhang's company. "The most senior AI engineers in China now often command compensation of $1 million or $2 million, though most of that is stock," Bloomberg News reports. "It's a sign of bubbly times in China."

4) A New Kind of Inequality Could Be Coming to America
President Donald Trump's tax plan could create a new distinction among taxpayers: those who live in high-tax vs. low-tax states. The proposal would eliminate the deduction of state and local taxes from federal tax calculations. It's a big deal for taxpayers in states like New York, California, and New Jersey, which all have high local taxes—and all lean Democrat. Some cities impose additional income taxes on top of state taxes. Anti-tax groups say the deductions give local governments less incentive to lower taxes. The breaks are estimated to be worth $1 trillion over 10 years. On Friday, Trump economic adviser Gary Cohn said on Bloomberg TV that the deduction would be up for negotiation. 
5) Want to Be a Millionaire? Move to Russia
The ranks of millionaires in Russia swelled from 2015 to 2016, Suzanne Woolley reports. Stock gains helped the number of rich investors in Russia grow 19.7 percent this year. Other countries where the ranks of the rich are swelling include Indonesia, Thailand, the Netherlands, and Norway. Globally, the ranks of the ultra-wealthy grew 7.5 percent last year. 

Before it's here, it's on the Bloomberg Terminal.
LEARN MORE