Europe Stocks Ready to Outpace Wall Street
By
Since euro's peak, Euro Stoxx 50 is up 3.3%, S&P 500 up 1.8%

European shares set for 'nice' year-end rally, Makor says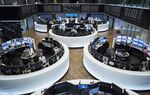 Euro-area stocks may be ready to get back at Wall Street.
The rallying euro damped gains in the region's stocks, which underperformed this year versus the S&P 500 index despite a brisk economic recovery and a rebound in earnings.
That's changing as the single currency drifts lower against the dollar in the wake of indecisive German elections and hawkish comments from the Federal Reserve. Strategists say the weaker euro should help fuel the region's stocks for a catch-up rally with Wall Street and solid gains into the end of the year.
"European stocks are in a sweet spot, and the rising euro has been the only real headwind for the market," said Stephane Barbier de la Serre, strategist at Makor Capital Markets, in Geneva. "The euro is probably in full reversal mode now, and it could fall toward $1.14-$1.15. The headwind is becoming a tailwind, and we're set for a nice year-end rally."

The Euro Stoxx 50 index has gained 8 percent so far this year, trailing a 12% rise on the S&P 500 index. When priced in U.S. dollars however, the euro-area benchmark is up 21 percent, with Germany's DAX index up 23 percent and Italy's FTSE MIB up 31 percent.
Since hitting $1.2092 earlier this month -- its highest level since early 2015 -- the single currency has lost 2 percent in value. "The euro has moved beyond what rate differentials appear to justify," UBS strategist Lefteris Farmakis wrote in a note Wednesday, referring to the gap between U.S. and euro-area real rates. The euro's "correction has now begun."
A euro at $1.20 has been seen this year as the "pain threshold" at which the currency would start to negatively impact European earnings, according to a Bloomberg survey. Equity strategists have said that every 10 percent swing in the euro has a direct and indirect impact on European earnings of 3 percent to 6 percent.
Fundamental valuation ratios also support the case for a catch-up rally. Euro-area stocks remain cheap versus U.S. peers, with the Euro Stoxx 50 trading at 1.6 times the value of their assets, almost half that of the S&P 500.

"After years of crises, Europe is now ticking all the boxes: improving trends in the job market, in consumer confidence, and in current account surpluses," said Tomas Pinto, co-head of European equities at Pictet Asset Management. "There's clearly a catch-up potential for European stocks."
Before it's here, it's on the Bloomberg Terminal.
LEARN MORE