Anglophone Cameroon Braces for Pro-Independence Rallies
By
Rallies calling for independent Ambazonia scheduled for Sunday

Regional authorities imposed curfew, banned large meetings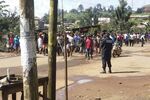 The authorities in western Cameroon have banned public meetings in the mainly English-speaking region before planned demonstrations on Sunday to demand independence from the rest of the largely Francophone nation.
The protests in the Southwest and Northwest regions have been called by a group known as Southern Cameroons/Ambazonia Governing Council. Activists plan to hoist blue and white Ambazonia flags in a series of rallies across the two areas, the chairman of the organization, Sisiku Ayuk Tambe, said in a statement Thursday. Southwest regional Governor Bernard Okalia Bilai has imposed a curfew, banned meetings of more than four people, shut down nightclubs and prohibited inter-city travel from 9 p.m. Friday to 7 a.m. Monday
"Cameroon remains one and indivisible," Bilai said Friday in an interview in the Southwest regional capital, Buea. "That is why any attempts at secession will not be tolerated. So we have taken necessary measures to obstruct any independence declarations and all attempts at destabilizing the country."
President Paul Biya, 84, ordered a wave of arrests earlier this year after lawyers and teachers in English-speaking areas protested about the dominance of the French language in their courts and schools. He also temporarily shut down state-controlled internet services throughout the Northwest and Southwest regions, which border Nigeria.
Biya declared clemency for more than 100 detained Anglophone activists on Aug. 23, according to government spokesman Issa Tchiroma Bakary. The president's ruling Cameroon Peoples' Democratic Movement announced its own set of demonstrations on Sunday to counter the secessionist protests.
Cameroon, originally colonized by Germany, was split after World War One into a bigger French-run zone and smaller British-controlled area. They were unified in 1961. The country is a key transit hub for landlocked neighbors Central African Republic and Chad, and exports crude oil, timber, cocoa and palm oil.
In a statement Thursday, United Nations Secretary-General Antonio Guterres urged all parties to the dispute to refrain from actions that could heighten tensions and said authorities should promote national reconciliation by finding a solution to the crisis.
Before it's here, it's on the Bloomberg Terminal.
LEARN MORE