China Communist Party Expels Former Rising Star Sun, Xinhua Says
Bloomberg News
Sun Zhengcai was among youngest members of Politburo

Bribery, abuse of power cited before key congress in October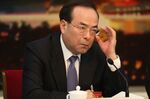 China's Communist Party expelled the former party chief of Chongqing for disciplinary violations as it clears the decks ahead of a once-in-five-years national congress and leadership reshuffle.
The decision to eject Sun Zhengcai from the party was made at a meeting of the Politburo on Friday, the official Xinhua News Agency reported. An investigation found that Sun -- who was removed as party boss of the city in southwest China in July -- took bribes and misused his power to benefit others, Xinhua said. His case will now be transferred to the judicial authorities to assess what crimes have been committed, according to the report.
One of the youngest of the 25 Politburo members, Sun, 54, was considered a rising star in the party before his ouster. His age and rank had positioned him as a potential candidate for the Standing Committee, China's top-decision making body, which in turn could have set him up for a top leadership post after 2022.
As President Xi Jinping heads into the second half of his scheduled term in power, several Politburo members are expected to be replaced at the congress starting Oct. 18. Before rising to the top in Chongqing, Sun had served as China's agriculture minister and as the party secretary of Jilin province, in the northeast.
Read more: The Meeting That Could Seal Xi's Grip on China: QuickTake Q&A
This isn't the first time Chongqing has figured in the lead-up to the all-important congress. The expulsion of another former Chongqing chief, Bo Xilai, cast a shadow over the last party leadership transition in 2012. Bo, who was also touted at the time as a potential future leader, is now serving a life sentence in prison for corruption and abuse of power.
— With assistance by Feifei Shen, and Li Liu
Before it's here, it's on the Bloomberg Terminal.
LEARN MORE