Spain Tries to Stop Catalonia's Weekend Vote on Independence
By and
Spanish government steps up efforts to frustrate Sunday vote

Farmers drive tractors into Barcelona in support of referendum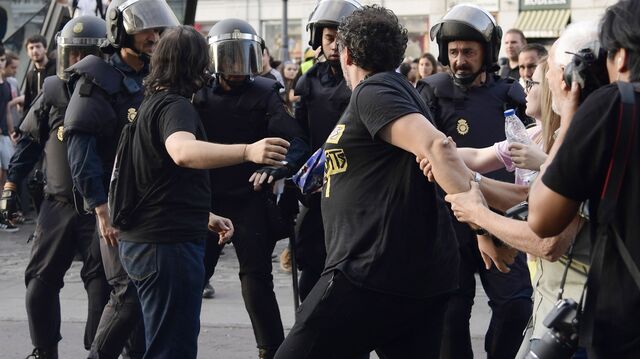 Catalonia heads into a watershed moment in its modern history this weekend, and no one really knows how it's going to play out.
Spanish government spokesman Inigo Mendez de Vigo said Friday that there's no way the regional administration will pull off its plan to hold an illegal referendum on independence on Sunday. Jordi Turull, the Catalan executive's spokesman, said Friday in Barcelona that almost 7,000 volunteers are ready to open 2,315 polling stations across the region of 7.5 million people.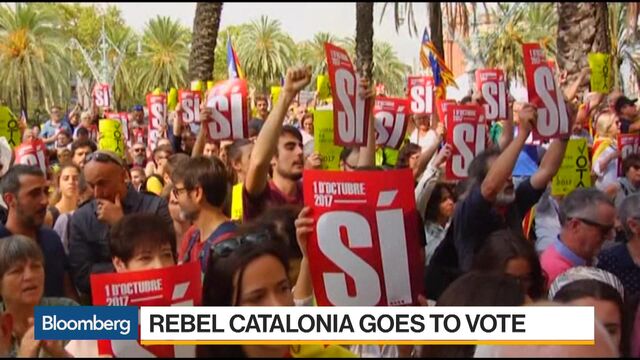 "Today we've defeated an authoritarian state," Catalonia's regional president, Carles Puidemont, said Friday at the closing rally of the secession campaign. "Each difficulty has made us stronger."
Prime Minister Mariano Rajoy is deploying thousands of police to Catalonia to maintain public order ahead of a vote declared illegal by the Spanish constitutional court. The region's bid to break away is the biggest challenge to the political settlement instituted following the death of dictator Francisco Franco that sought to tie restive regions into Spain's new democracy.
Catalan History of Grievance Leaves a Divided Spain: QuickTake
Earlier Friday, scores of farmers backing secession drove tractors from the provinces into Barcelona to blockade Spanish government offices. Both sides projected their resolve.
"All polling stations will be in place -- even if someone tries to stop it, citizens will still be able to vote," Oriol Junqueras, Catalan economy vice president, said.
After Rajoy met with his cabinet in Madrid, his government repeated its pledge that the referendum wouldn't happen.
"The government, exercising its constitutional functions, will enforce the law," Mendez said at a news conference. "No one is above the law, and anyone who breaks it should face the consequences."
Read more: How Catalan Rift Exposes Cracks Through Spain: QuickTake Q&A
Spain's data protection agency warned that polling station workers face fines of as much as 300,000 euros ($355,000) for accessing and managing data for the electoral registry. The aviation authority said it would restrict airspace over Barcelona during referendum weekend.
A magistrate at Catalonia's High Court ordered Google Inc. to remove "On Votar 1-Oct" app from the Google Play service, according to an email statement from Catalan supreme court. In a separate ruling, the magistrate ordered the Catalan technology agency to shut a chain of applications that potentially could be used for the vote.
On Saturday, Spanish police acting on orders of a judge searched a Catalan technology center in a bid to thwart a plan to hold the referendum online if polling stations are shut, the government's representative in Catalonia, Enric Millo, said in Barcelona. Officers are in a room at the Center of Telecommunication and Information Technologies, according to a statement from a regional government official.
Catalan police already have sealed off 1,300 polling stations, or more than half of the 2,315 locations. In 163 polling stations, people continue to occupy the premises. Those people were given until 6 a.m. Sunday to leave.
"I'm asking the Catalan president to call off the referendum, because if it happens he likely end in a situation in which he will have to appear before a judge," Millo said. "What it's sure is that tomorrow there won't be a binding referendum with guarantees."
Jorge Toledo, Spain's deputy minister for the European Union, said at an European Union conference in Tallinn, Estonia, on Friday that talks with Catalonia could start once the region is complying with the law.
More than 5.3 million of Catalan residents are eligible to take part in the vote, with stations open from 9 a.m. to 8 p.m. on Sunday.
Before it's here, it's on the Bloomberg Terminal.
LEARN MORE