Big Ben Repair Costs Balloon as U.K. Parliament Crumbles
By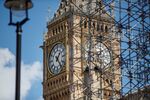 The cost of repairing Big Ben, the iconic clock tower of Britain's Parliament, doubled following a detailed analysis by surveyors.
Repairs to the Elizabeth Tower, as the tower is properly known, will cost 61 million pounds ($82 million), up from an original estimate of 29 million pounds, the House of Commons said on Friday in an emailed statement. The name "Big Ben" comes from the 13.7-ton bell in the clock, which fell silent in August ahead of the four-year restoration project.
The statement does little to dispel fears that the wider costs of restoring the whole of Parliament will also exceed estimates. Lawmakers are debating the best course of action to restore the entire building; a project that may cost 5.7 billion pounds and take as long as four decades.
Much of the complex dates from the mid-19th century and is riddled with asbestos. Pollution is causing the stonework to decay, and the plumbing, electrical, drainage and ventilation systems are antiquated, never having undergone a major refurbishment.
The higher cost is down to surveyors gaining a better understanding of the state of the stonework and clock faces, and for the ground works to support the weight of scaffolding, according to the House of Commons. Authorities also increased to 17.2 million pounds from 5.8 million pounds the sum of money put aside for contingencies in case of unexpected events, and added 4.5 million pounds of fire safety work to the project's remit.
Before it's here, it's on the Bloomberg Terminal.
LEARN MORE