Airlines Scrap Kurdistan Flights on Backlash to Referendum
By and
Baghdad had said services should cease by 6 p.m. Friday

Lufthansa, Qatar Air among carriers terminating links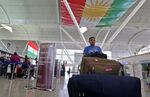 Major airlines including Deutsche Lufthansa AG and Qatar Airways terminated services to Kurdistan as Iraq moves to sever outside ties with the autonomous region following Monday's independence vote.
International flights were to be suspended at 6 p.m. Friday, Hussein Mohsen, acting director general of the Iraqi Civil Aviation Authority, said. Lufthansa was among airlines to say that while there was confusion regarding the ban, with no official notice initially received, it would halt flights.
Mohsen told Bloomberg News that Iraq would take appropriate steps against any carrier violating the moratorium on flights to the regional capital Erbil and the city of Sulaimaniya near the Iranian border, which it says are national assets. He didn't specify what those measures might be. Mawloud Bawmurad, the region's transport minister, said the hubs belong to Kurdistan and should remain open, according to the local Rudaw news service.
This week's poll saw 93 percent of the votes cast back statehood, according to official results, prompting the Kurdistan Regional Government to say that it will seek talks with Baghdad on the "next step." Iraq warned that it would impose "the authority of the federal government" on the region, while Iranian lawmakers also condemned the outcome as "destructive," and Turkey hinted that it might halt Kurdish oil exports via a pipeline to its Mediterranean coast.
U.S. Secretary of State Rex Tillerson said in a statement Friday that "the vote and the results lack legitimacy and we continue to support a unified federal, democratic and prosperous Iraq." He also urged "calm and an end to vocal recriminations and threats of reciprocal action."
Federal Approval
Flights to Erbil and Sulaimaniya operated by domestic operators will be allowed to continue, the CAA's Mohsen said. Humanitarian and emergency services are also excluded from the banning order, but will require approval from federal authorities, according to a statement from Iraq's cabinet.
Air links to Kurdistan were gradually restored following the toppling of Saddam Hussein in 2003, with Lufthansa's Austrian Air the first West European operator to serve Erbil, with flights from Vienna in 2010. Connections were terminated again at the height of conflict with Islamic State, before being built back up.
Austrian, which usually serves Erbil daily, operated the route as normal on Friday, but listed it as suspended on Saturday and Sunday. Parent Lufthansa connects with Kurdistan twice weekly from Frankfurt, with a Saturday trip unbookable on its website.
Privately owned Germania, which connects Munich with Erbil on Tuesday and Sulaimaniya on Saturdays, said the flights were suspended "until further notice." Passengers can change their bookings to other destinations in its network or get a full refund.
In the Mideast, Turkey and Iran ordered an end to flights and Qatar Air said it would halt services Friday. The Jordanian and Lebanese national carriers and discount operator FlyDubai also ceased operations.
— With assistance by Larry Liebert
Before it's here, it's on the Bloomberg Terminal.
LEARN MORE