ACLU Asks Court to Allow Challenge to Trump's Latest Travel Ban
By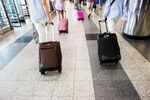 The American Civil Liberties Union, which launched all-out legal assaults against the first two versions of President Donald Trump's travel ban against several Muslim-majority countries, told a federal judge the group will seek to block the administration's third edition.
The revised restrictions limit travel to varying degrees from Iran, Libya, Somalia, Syria and Yemen, all of which were on the original list. The U.S. will also restrict or ban travel from Chad, North Korea and Venezuela. Sudan is no longer on the list.
The group submitted a letter on Friday to U.S. District Judge Theodore D. Chuang in Greenbelt, Maryland, seeking permission to amend their existing lawsuit over an earlier version of the ban.
Travel Ban 3.0 Seen as 'Bulletproof' If Not for Trump's Remarks
Before it's here, it's on the Bloomberg Terminal.
LEARN MORE