A $6.4 Billion Windfall Awaits Big U.S. Banks in Trump's Tax Cut
By
Reducing corporate rate to 20% would shrink tax bills

Wells Fargo, Bank of America stand to benefit the most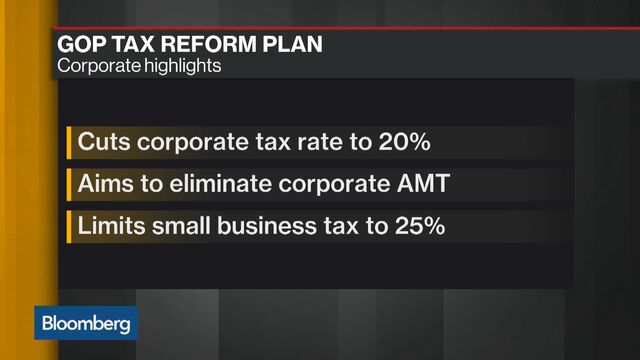 The six largest U.S. banks could see net income rise $6.4 billion, or 7 percent, if President Donald Trump and Republicans in Congress can push through their proposed corporate tax rate cut.

Banks stand to benefit more than other industries because they typically have fewer deductions. The top six firms -- JPMorgan Chase & Co., Bank of America Corp., Wells Fargo & Co., Citigroup Inc., Goldman Sachs Group Inc. and Morgan Stanley -- paid an average of 26 percent in federal taxes last year, almost twice the average for nonfinancial companies, according to data compiled by Bloomberg. The Republican framework released Wednesday calls for lowering the corporate rate to 20 percent from 35 percent.
Read More: Here's Everything You Need to Know About GOP Tax Reform
The estimates for the tax savings are based on the firms paying a 20 percent effective U.S. federal rate, assuming current deductions are no longer allowed. While earlier versions of Republican tax proposals have talked about eliminating some deductions, the latest plan has scant information on such changes. If some deductions are kept, banks would end up with a lower effective tax rate and their savings would be even greater.
Before it's here, it's on the Bloomberg Terminal.
LEARN MORE