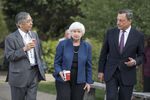 Subscribe to Bloomberg Benchmark on Apple Podcasts
Subscribe to Bloomberg Benchmark on Pocket Casts
Every week, hosts Dan Moss and Scott Lanman bring you a jargon-free dive into the stories that drive the global economy.
Some of the planet's most powerful people may be out of a job in the next two years. Beginning in the next few months, terms start ending for the central bankers who control the price of money in the world. First Janet Yellen, whose term ends February. Up next, Haruhiko Kuroda in April. England's Mark Carney departs in 2019 as does Mario Draghi of the European Central Bank. How many of them will survive and, if they depart, what will be their legacy? Guest Adam Posen, president of the Peterson Institute for International Economics, walks Dan and Scott through the horse race.
Before it's here, it's on the Bloomberg Terminal.
LEARN MORE