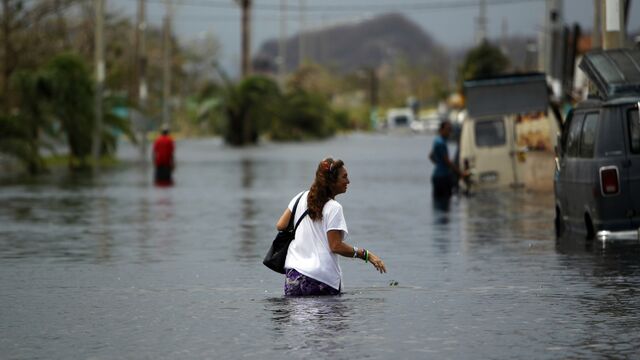 As Puerto Rico struggles to recover from Hurricane Maria, it faces no end of hurdles, from leaking dams to widespread power failures and shaky finances. One constraint that officials worried would really start to bite as the recovery stretches on is an almost-century-old U.S. law meant to support a robust domestic shipping industry, known as the Jones Act. After the Department of Homeland Security initially declined to give Puerto Rico an exemption, President Donald Trump said Wednesday that his administration was "thinking about" waiving it. On Thursday, he did, lifting it immediately for the next 10 days.
1. What is the Jones Act?
Passed in 1920, it mandates that vessels moving between U.S. ports be built and registered in the country, and crewed by Americans. The law sought to encourage U.S. shipbuilding and grow the nation's merchant marine force.
2. What's its impact?
In normal times, critics say, it raises the cost of goods, because Jones Act ships are scarcer and more expensive than foreign carriers. On average, a 2011 U.S. study showed, the operating costs of American flag vessels are about 2.7 times higher than their foreign counterparts. Without the temporary waiver, officials worried that it could mean that there weren't enough qualified vessels to meet the crisis. (The island relies on just four U.S. carriers for most of its imports.) But once the law goes back into effect, it could make reconstruction more difficult by adding to the price of supplies.
3. Does it get waived in emergencies?
Sometimes. After hurricanes Harvey and Irma in the past month, the Trump administration temporarily waived the statute to ensure that gasoline could move without delay. When the Homeland Security Department earlier this week declined to issue a similar waiver for Puerto Rico, it said port capacity was the bigger obstacle. As of Wednesday, six of 15 ports on the island remained closed.
4. What do Puerto Rican officials say?
Puerto Rico Governor Ricardo Rossello has stressed the need for waiving the Jones Act, telling CNN Wednesday that it was "critical, particularly for fuel." He's not alone: Eight U.S. House members asked the department in a letter this week to suspend the Jones Act for one year, and Republican Senator John McCain asked it to consider a permanent halt. "Let the ships flow as quickly and as cheaply from wherever they may come from," Democratic Representative Luis Gutierrez of Illinois said on the House floor Tuesday.
5. What do the law's defenders say to Puerto Rico?
That the real problem isn't the number of ships headed for Puerto Rico, but what happens after the ships reach shore. As of Wednesday, 11 tankers carrying petroleum products were headed to the island. But mountains of aid were already languishing on docks. Port operations are hampered by decimated infrastructure. Roads are flooded or covered by debris, including trees and downed power poles. Also, as Trump said on Wednesday, "We have a lot of shippers and a lot of people that work in the shipping industry that don't want the Jones Act lifted."
The Reference Shelf
Before it's here, it's on the Bloomberg Terminal.
LEARN MORE