What Catalan's Secession Vote Means to Investors
By and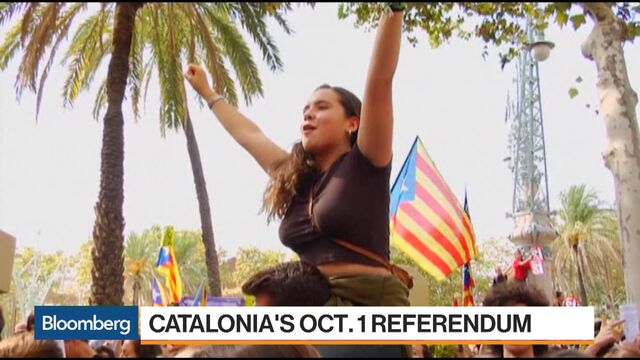 On Oct. 1, Catalonia will try to stage an illegal separatist referendum. For investors, it's all about the aftermath -- and that may include Spain's biggest regional economy declaring itself an independent republic.
Central government authorities in Madrid are doing what they can to suppress the plebiscite, meaning that actual voting may be confined mostly to small towns and pockets of cities where police are scant or empathetic.
The notion that only 16 percent of the nation's population could reduce Spain's borders and escape its laws and tax obligations is not what concerns investors. Instead, it's what the secessionists do next. Catalan President Carles Puigdemont has suggested the separatist-led regional government may declare a split from Spain within days of the vote result.
Here's how markets are most likely to react to possible outcomes after the Sunday referendum, according to interviews with investors and strategists:
SCENARIO 1: Some form of 'Yes' victory, streets calm
Tomas Pinto, co-head of European equities at Pictet Asset Management, sees very little risk to broader markets.
"There can't be a strong mandate for independence coming out of this," he said in a briefing in Paris. "The vote is not an official referendum, and no matter what the outcome is on Oct. 1, it won't solve the issue." 
Investors caution that any market reaction would be muted. "Spain does not have a large and liquid futures market for its debt, so speculative activity is lesser than in, say, France or Italy," said Raphael Gallardo, a Paris-based strategist at Natixis Asset Management, which oversees 367 billion euros ($431 billion) of assets, including Spanish bonds.
Spanish government bonds could suffer if separatists are perceived as winners, said Orlando Green, strategist at Credit Agricole SA.
"If they managed to get a high turnout, assuming it goes ahead, and win, then the bonds should weigh heavily against the bund in particular," he said.
SCENARIO 2: Catalans declare independence
Marc-Henri Thoumin, fixed-income strategist at Societe Generale SA, said he doesn't expect a declaration of Catalan independence. Should it happen, he sees resulting "political instability" cheapening 10-year Spanish government bonds relative to German peers, and devaluing five-year notes against those due in two years.
Price moves could be damped by the European Central Bank's regular bond-buying program, which absorbed 5.1 billion euros of Spain's government debt in August, and a shortage in Spanish supply in October, according to Eric Oynoyan, a strategist in London at BNP Paribas SA.
"Clearly there is a cap on the spread" that investors won't exceed, he said. "You could have a blip for a couple of days, 10 to 15 basis points maximum, and then you will see some buyers" return.

SCENARIO 3: Independence declared, Catalan government suspended

"The market doesn't really focus on it now," said Olivier Doleires, a money manager at UBP SA, who is short the single currency. But a scenario in which the Spanish government clamps down further "definitely will add a layer of pressure on the euro, because we've already had a few events which are pressuring" the currency.
Jordan Rochester, a currency strategist at Nomura International Plc in London, said he'll look for what portion of voters show up. "Turnout will be a key factor there," he said. For it to impact the euro, "it would require it to lead to the Spanish government allowing for a future binding referendum, which we do not think is likely."
SCENARIO 4: Chaos after rule of law challenged

"Referendums are like kryptonite for currencies," said Kathleen Brooks, research director at trading firm City Index in London, referring to the fictional material that weakened Superman. "If the market sees chaos, where no one really knows what's going on, the euro could potentially fall 1 percent to 2 percent, and the bond spread would shoot up. If we had a very large move -- 100 basis points – the would hurt the currency even more."
In a chaotic situation "I would expect very large spread-widening, and some bear flattening at the front-end of the curve," meaning short-term yields spike relative to longer ones, SocGen's Thoumin said. Spain's yield spread over Germany on 10-year debt could widen to between 350-400 basis points from about 120 now, depending on any reaction from the ECB.
"The markets are wondering: can Catalonia be independent by the end of the year?" said Natixis's Gallardo. "The short answer is no."
— With assistance by Cecile Gutscher, Blaise Robinson, Esteban Duarte, and Maria Tadeo
Before it's here, it's on the Bloomberg Terminal.
LEARN MORE