Volatility Revival Fear Pits Societe Generale Against Barclays
By
SocGen foresees "insatiable frenzy for yield" fading

No catalyst to upset risk-asset valuations: Barclays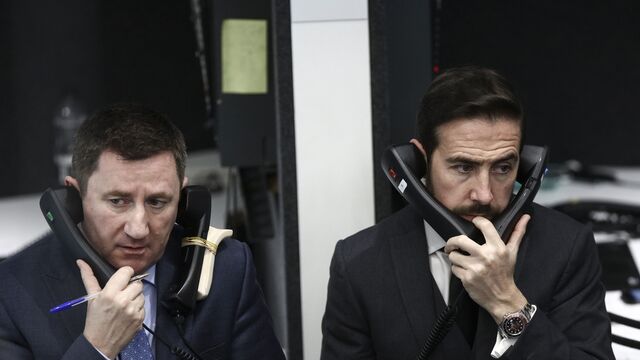 Strategists are taking sides on the outlook for volatility in the months ahead.
Barclays Plc reckons markets are unlikely to be spooked by tighter U.S. monetary policy, while valuations and positioning don't suggest a pullback from risk is in the offing.
Societe Generale SA analysts, meanwhile, suggest higher yields and a breakdown in the correlation between stocks and bonds could spell the end of this year's "low volatility trap." That suggests investors should snap up hedges on the cheap.
Their opposing views come as investors navigate a tentative reversal of key market trends in the final days of the third quarter, with bond bears and dollar bulls on the up while tech megacaps stumble.
"The dominant feature of the current macro environment is very low actual and implied volatility, coexisting with an economic and political backdrop that contains little to alarm investors," Barclays strategists Ajay Rajadhyaksha and Michael Gavin wrote in a report Thursday.
The hunt for yield will continue unabated as there's no "plausible catalyst" that could upset valuations for risk assets for the remainder of 2017, according to the analysts.
Political challenges in the U.S., China and Europe in the fourth quarter are modest compared with the event risks investors have navigated this year, such as the French election, they add.
SocGen strategists led by Kokou Agbo-Bloua, by contrast, sound the alarm over stretched market positioning as the U.S. monetary tightening cycle gathers pace.
"Low volatility across both equities and rates has no doubt created a situation where an increase in both vol and correlation could create very acute deleveraging of risk parity/vol control funds," they wrote in a Wednesday note. 

The popular hedging strategy this year -- snapping up Treasuries to hedge stocks at record prices -- could fall out of favor if correlations change, reducing the allure of bonds as a "risk diversifier." That should increase the volatility of multi-asset portfolios in the process, they argue.
Capital-guarantee products, which provide downside protection, look attractive if "the voracious and insatiable frenzy for yield" begins to unravel, the strategists conclude.
With market volatility hovering near multi-year lows, strategists have voiced opposing views throughout the year. HSBC Holdings Plc this week also presented the bullish case, arguing low economic volatility will continue to lull implied and realized price moves in markets, as stable data tend to boost the present value of future cash flows generated by companies.
Barclays says:
2017 equity rally has been driven by earnings growth, not multiple expansion
Recommends long global equities over global fixed income; bullish international shares, but sharp de-rating of the S&P 500 unlikely
Favors U.S. high yield, emerging-market credit; sees mild rise in safe-haven yields, while the dollar to "take a breather" from recent weakness
SocGen recommends:
VXX upside more "appealing" than VIX due to exposure on 2 front-month futures

Buy VXX December 35-43-50 call spread collar

To the extent the European recovery is domestic-led, European equities should perform well despite a stronger euro

Buy Euro Stoxx 50 December 102.5% call, contingent on outlook for single currency
— With assistance by Blaise Robinson
Before it's here, it's on the Bloomberg Terminal.
LEARN MORE