This 31-Year-Old Is Trying to Revolutionize Cryptocurrency Trading
By
Michael Oved created AirSwap, a decentralized exchange

Business could undermine China's efforts to crack down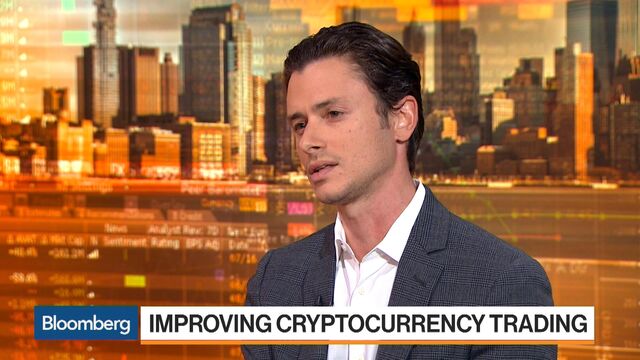 Michael Oved helped Virtu Financial Inc. become the most consistently profitable market maker in the history of electronic trading. Now he has his sights set on revolutionizing how digital currency exchanges operate.
The new company he cofounded, AirSwap, sounds like a contradiction in terms: A decentralized exchange. Made possible by the nascent technology of the ethereum blockchain, there's no central authority around which buyers and sellers gather. Instead, a computer program known as a smart contract lets investors find each other anywhere in the world to trade cryptocurrencies. There are no user accounts and identities are hidden as trading is solely on a peer-to-peer basis. 
"What's novel about that is there's no New York Stock Exchange or Nasdaq in the middle, setting rules," said Richard Johnson, a market-structure analyst at Greenwich Associates who specializes in blockchain, a system of networked computers that verify transactions in minutes rather than days as in the current banking system and make digital currencies such as bitcoin possible. "That's cool, we haven't seen that before."
The idea goes to the heart of what many blockchain supporters want to accomplish: eliminating middlemen in industries from finance to real estate to health care. It also makes digital currencies immune to recent efforts to control their trading by governments such as China, which is closing cryptocurrency exchanges within its borders.
"It's impossible to shut down, and you don't even need an account," Oved said. "People won't even know Chinese traders are on the system."
AirSwap wants to attract large institutional traders such as DRW Holdings LLC and DV Chain to buy and sell cryptocurrencies on an exchange. Oved's target is the estimated 60 percent to 80 percent of cryptocurrency trading that now occurs in the over-the-counter market. (He said AirSwap doesn't have a connection to DRW, DV Chain or any other big traders.) Many of those firms have been wary of the inadequate financial market infrastructure and basic oversight of existing exchanges for digital currencies.
With No 'JPMorgan of Bitcoin,' Exchanges Struggle to Win Trades
"We're basically a streamlined system for them to do their trading and to interact with a whole new bunch of customers," Oved said.

Oved, a 31-year-old with a slight build and brown hair, graduated with a degree in mathematics and economics from Carnegie Mellon University. He played piano as a child but had to give it up when he began studying math in college, he said. He's big into the Burning Man community in Brooklyn but hasn't been able to attend the desert festival in recent years because he's been too busy.
His work at Virtu took him around the world, including when the firm sent him to Sydney with five other people to open its Asian unit. He also led its European expansion. Oved rose to partner in 2014, and ran Virtu's North American, South American and European cross-border trading desks. Virtu gained fame for only losing money on a single day from 2009 to 2014 as it matched buyers and sellers in stocks, bonds, futures and currencies.
"At Virtu, I probably built at least a hundred smart-order routers," Oved said in an interview, referring to the algorithms Virtu uses to direct its electronic trading. The efficiency and scale of its smart-order routers is a big reason why Virtu is so consistently profitable and it's what convinced firms like T. Rowe Price Group Inc. and JPMorgan Chase & Co. to sign on as customers of its trading systems. 
Because of its unique structure, the biggest risks for AirSwap and similar exchanges may be from regulators because of their lack of anti-money laundering and know-your-customer requirements, said Johnson. The analyst said it might be time to amend the standard definition of a market from a "central limit order book" to a "decentralized limit order book."
Another risk of decentralized exchanges is front-running. Because the bids and offers are all publicly displayed, another user can jump the line while a transaction is pending and complete a deal at a higher or lower price. The reason this can be done on the blockchain is because a front-runner can offer to pay a higher transaction fee to have their dishonest trade verified before the honest trade.
AirSwap is one of several startups aiming to bridge the gap between what investors expect in terms of financial market infrastructure and the Wild West nature of cryptocurrency trading where basic oversight is absent. It joins firms like Omega One, an agency brokerage for asset managers and institutional investors who want to own bitcoin and ether, and LedgerX, which won regulatory approval in July to offer bitcoin options trading. AirSwap isn't the first exchange, either. EtherDelta.com currently offers blockchain-based trading for dozens of cryptocurrencies.
Autonomous trading platforms aren't without the risk of being breached, as was shown by a recent attack on EtherDelta. A malicious coin was offered on the system that tricked several EtherDelta users into revealing their private keys, allowing the attacker to steal the cryptocurrencies in those users' wallets, said Zack Coburn, founder of EtherDelta. The attack was first reported in The Merkle.
The problem was found and fixed within hours, Coburn said. "A handful of users were affected," he said in an interview. Users' cryptocurrency balances are maintained by a smart contract that will only release them if the user has their private key, he said. While that is more secure than stashing the assets in one big account at an exchange, it does put more burden on EtherDelta's users to safeguard their private keys, he said.
Oved recognized the novel structure of his exchange and said the company is relying on inside and outside legal counsel to sort out the new territory. 
"AirSwap does not manage, or ever touch, user funds," Oved said. "AirSwap works simply as a software platform for discovery of peers with whom users can swap tokens on a peer-to-peer basis through ethereum smart contracts." He added, "There is no central exchange hub or clearinghouse, the transactions are negotiated peer-to-peer and then the swap is executed and cleared on the ethereum blockchain."
AirSwap trading will be on a peer-to-peer basis driven by a search engine that finds others interested in trading ether or certain ICO tokens, similar to dark pool trading in U.S. equity markets, Oved said. Third-party pricing feeds will be used, and a smart contract will ensure that the two sides to the trade move simultaneously or not at all to avert one side of the trade getting ripped off, Oved said. That's known as an atomic swap in ethereum-land.
"The beauty of the blockchain is you don't need a clearinghouse anymore," Oved said.
The risk going forward is whether regulators take that same beautiful view.
— With assistance by Camila Russo
Before it's here, it's on the Bloomberg Terminal.
LEARN MORE