Trump Lawyer, Sally Yates, Chris Christie: FBI Event Unites All
By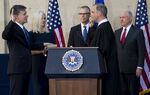 FBI Director Christopher Wray's formal swearing-in on Thursday brought together an unusual array of political players touched by the federal probe into Russian meddling in the 2016 presidential election.
While Wray and Attorney General Jeff Sessions -- who President Donald Trump has criticized for recusing himself in the Russia probe -- took the stage, the audience included White House Counsel Donald McGahn and Deputy Attorney General Rod Rosenstein, who oversees Special Counsel Robert Mueller's expanding Russia inquiry.
On the opposite side of the center aisle was former Deputy Attorney General Sally Yates, whose warnings to McGahn about the president's ex-national security adviser Michael Flynn are a focal point of Mueller's probe.
Standing in the back was Dana Boente, U.S. attorney for the Eastern District of Virginia and acting head of the Justice Department's national security division, who was acting attorney general briefly after Yates was fired for not enforcing Trump's travel ban.
The emcee of the event, held in the courtyard of the J. Edgar Hoover Building and attended by hundreds of FBI agents and staff, was Deputy Federal Bureau of Investigation Director Andrew McCabe, who temporarily ran the bureau after James Comey was fired by President Donald Trump in May.
While no mention was made of the Russia inquiry or Comey's ouster, Sessions praised Wray's experience and spoke about "a new day for the organization" while Wray pledged to "uphold the Constitution."
Also in attendance were New Jersey Governor and former federal prosecutor Chris Christie; Ted Olson, who was solicitor general under President George W. Bush; and former FBI Director William Webster.
Absent from the festivities were two other former FBI chiefs: Comey and Mueller.
Before it's here, it's on the Bloomberg Terminal.
LEARN MORE