Scalise Returns to Capitol Months After Near-Fatal Shooting
By
He was among four shot at June 14 Republican baseball practice

Scalise is still undergoing outpatient rehabilitation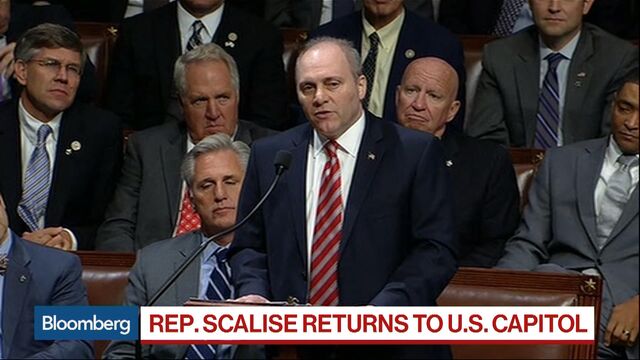 Representative Steve Scalise was greeted by a thunderous ovation when he returned to the House floor Thursday more than three months after suffering near-fatal injuries in a shooting during a Republican baseball practice.
"You have no idea how great it feels to be back at work here in the people's House," Scalise, 51, the third-ranking Republican, said in a speech on the House floor. He walked into the chamber using two canes, smiling and laughing to his colleagues.
He thanked the Capitol Police officers on his security detail, Crystal Griner and David Bailey, who were injured while bringing down the gunman. "You saved my life," he said to Bailey who was watching from the visitors' gallery. Scalise also thanked his doctors as well as fellow House members from both political parties for their love and support.
"It's so important as we're having those political battles, we don't make them personal," he said.
Scalise of Louisiana was the most seriously wounded among four people shot June 14 at a ballpark in Alexandria, Virginia, by James Hodgkinson, 66, of Belleville, Illinois. The gunman died in a shootout with police. When Scalise arrived at a hospital he was in "critical condition with an imminent risk of death," Jack Sava of MedStar Washington Hospital Center told reporters several days after the shooting.
Republicans were practicing for the next day's annual congressional baseball game against Democratic lawmakers' team. Leaders decided the game would go on as scheduled at Nationals Park in Washington, home of the city's professional baseball team.
"The Alexandria event continues to be the subject of an ongoing investigation," Capitol Police spokeswoman Eva Malecki said Wednesday.
Scalise, who was discharged from a hospital in late July, is still undergoing outpatient rehabilitation, his office said Thursday. His trip to the Capitol is his first public appearance since the shooting and he will be resuming work in the House, his office said. The lawmaker also will be interviewed by CBS's "60 Minutes" for a Sunday broadcast.
As majority whip, Scalise is the chief vote-counter in the Republican conference and has served in the House since winning a special election in May 2008.
The Federal Bureau of Investigation said Hodgkinson had with him a piece of paper listing six lawmakers. He appeared to have acted alone, the FBI said.
— With assistance by Billy House
Before it's here, it's on the Bloomberg Terminal.
LEARN MORE