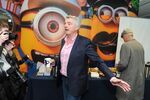 Investors used to look past Ryanair Holdings Plc CEO Michael O'Leary's caustic public theatrics and see a well-managed business with some of the lowest operating costs in the industry.
The airline might not always be terribly nice to passengers, but most will keep flying Ryanair anyway, providing tickets are cheap and planes actually take off and arrive more-or-less on time. Thus Ryanair will be able to continue to claim market share and increase profit. Rinse and repeat.
While that investment case isn't tatters, the famously efficient Ryanair "flywheel" is showing signs of wear and tear.
True, the direct costs of a staff rostering blunder that has forced the airline to cancel more than 20,000 flights stretching into next year won't be all that high. Refunds and free flight vouchers will cost the airline about 50 million euros ($59 million). The company still expects to report a full-year profit of as much as 1.45 billion euros.

So why has the Irish budget carrier shed about 1.8 billion euros in market value over the past two weeks?
For starters, Ryanair obviously isn't as well-managed as investors thought: the scheduling difficulties should have been foreseeable and Ryanair's initial response needlessly worried passengers, most of whose flights weren't actually cancelled.
Ryanair then pointlessly antagonized U.K. regulators who accuse the airline failing to advise passengers properly of their rights to compensation. That has triggered a telling off from the Civil Aviation Authority, but might make some passengers wonder whether they've been taken for a ride.
Secondly, Ryanair won't for the moment play a direct role in consolidating Europe's fragmented airline industry. After claiming it was shut out of the bidding for parts of insolvent Air Berlin Plc, the company has now also pulled its bid for Alitalia SpA. Rivals such as Easyjet Plc and Deutsche Lufthansa AG will be able to divvy up the spoils.
Finally, the budget carrier's labor costs are probably going to increase, albeit from a low base. With some pilots deserting it for long-haul airlines, including Norwegian Air Shuttle ASA, Ryanair has already promised to increase pay for some of them.
Meanwhile, a recent European Court of Justice ruling, in the so-called Mons case, threatens Ryanair's practice of using Irish labor contracts for staff based across Europe. O' Leary insists Ryanair won't have to stop using Irish contracts, nor will the ruling lead to an increase in pay. Everybody in the company is free to join a union, he told analysts earlier this month.
For investors, the worry is that more workers may now feel emboldened to try. Over time, unionized workers might push back against some of the company's less than sporting labor practices. HSBC thinks greater unionization could add 10 percent to the company's labor costs.

Even that wouldn't have a dramatic impact on Ryanair's future earnings. The airline hasn't suddenly become a pushover -- but its once-unbeatable low-cost model looks just a little more vulnerable.
Before it's here, it's on the Bloomberg Terminal.
LEARN MORE