Puerto Rico Rejects $1 Billion Loan Offer From Bondholders
By
'Bondholders' proposal is not viable,' fiscal agency says

Offered swap of $1 billion of debt for $850 million new bonds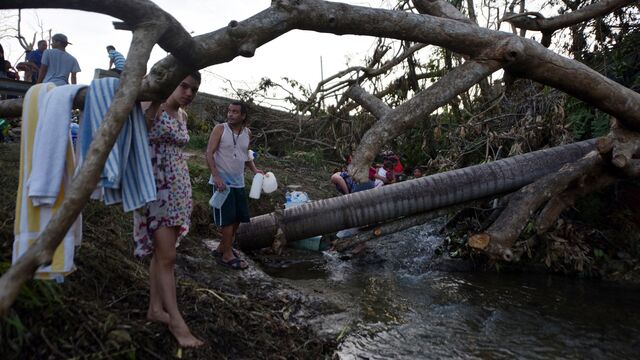 Puerto Rico rejected an offer from Electric Power Authority bondholders to lend the utility $1 billion in the wake of Hurricane Maria, saying the deal would hamper the agency's recovery.
Investors holding about $3 billion of power utility bonds said the loan was made to help the island meet local matching requirements to receive Federal Emergency Management Agency funds. They also proposed exchanging $1 billion of outstanding power utility debt for $850 million of new bonds.
Prepa, as the agency's known, is struggling to restore its power grid after the hurricane knocked out electricity across the island.
"The bondholders' proposal is not viable and would severely hamper and limit Prepa's capacity to successfully manage its recovery," the island's Fiscal Agency and Financial Advisory Authority said in a statement. "Such offers only distract from the government's stated focus and create the unfortunate appearance that such offers are being made for the purpose of favorably impacting the trading price of existing debt."
Prices on Prepa bonds have fallen in the wake of the storm's devastation. Debt maturing in 2042 traded Wednesday at an average 43.4 cents on the dollar, down from 52.5 cents at the end of August, data compiled by Bloomberg show.
Both the $1 billion loan and the $1 billion exchange, a so-called debtor-in-possession financing, would be repaid before all other existing Prepa debt. DIP loans are routinely extended to corporations working under court protection from creditors.
"What we're trying to do is lend where our investors are not disadvantaged," Thomas Wagner, co-founding partner of Knighthead Capital Management LLC, said on Bloomberg TV Wednesday, "but where we can have a 'win-win' -- where the capital is not expensive, but ultimately it achieves the goals of bringing even more capital in on a zero-cost basis."
Before it's here, it's on the Bloomberg Terminal.
LEARN MORE