Mexico's Ruling Party Wants to Rip Up Rules on Campaign Cash
By
Constitutional change would replace public with private funds

After earthquake, political parties swear off public money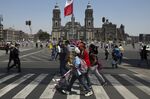 Mexico's ruling party is seeking a constitutional overhaul to eliminate all public funding to political parties months before presidential elections, a move that could benefit the party in power more than any other.
The PRI party presented the bill Monday in the lower house to have private contributions replace public resources, saying the measure would save the government 6.8 billion pesos ($373 million) ahead of 2018 elections. Currently, Mexico strictly limits private donations and has granted hefty public funding to parties since the 1990s in order to even the playing field after the PRI ruled the country uninterrupted for seven decades.
Then, two earthquakes this month took more than 400 lives in Mexico and political parties responding to public outcry began swearing off government funding to help pay for rebuilding efforts. While it would be beneficial to gradually reduce the enormous amount of taxpayer pesos that flow to political groups, analysts warn the PRI's measure is probably more self serving and would give the party an edge in the upcoming elections.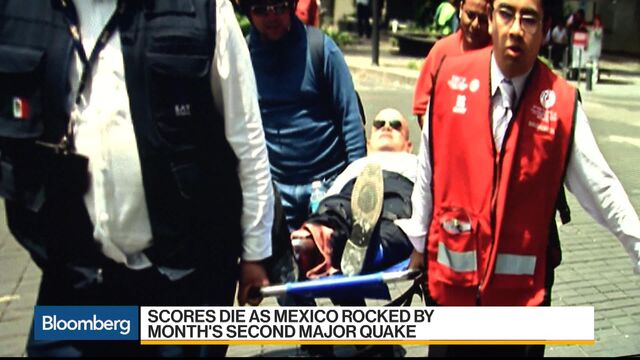 "This crisis is an opportunity for the PRI," said Carlos Bravo, a political scientist at Mexico City's Center for Economic Research and Teaching. "The party in power could have more advantages."
Cutting off all public funding would cause parties to resort to any means necessary to collect cash, and would benefit the ruling PRI because it holds more governorships from which to siphon off state funds for its campaigns, Bravo said. The bill would also eliminate positions of dozens of lawmakers chosen through a system of proportional representation, which would hand the PRI a majority in the lower house it doesn't currently have, he said.
Luis Carlos Ugalde, a former top electoral official who runs Integralia Consultores, put it simply in an interview on El Financiero Bloomberg TV: "The proposal to take all public money away from political parties is crazy, it's irresponsible, it's demagogic."
The PRI wouldn't comment on analysts' reaction to its bill.
Drug Money Risk
Already, anecdotal evidence suggests "unregistered" private contributions dominate most elections, according to a study Ugalde published in 2012. Privatizing all campaign financing could incentivize criminals such as drug traffickers to pay for favors or launder money through political contributions, Bravo says.
Yet the public's clamor to overhaul the political class is hard to ignore as the nation struggles to overcome its deadliest earthquakes in 32 years. A petition on Change.org to eliminate public funding to parties has gathered close to 2 million signatures since last week's earthquake. And public trust in politicians is dismally low: the World Economic Forum ranks Mexico 127th of 137 countries in that category.
Political groups began by pledging 20 percent of their government funding, but parties quickly raised the stakes until they'd promised to return everything. Swearing off some funds would have a much better chance at succeeding than the current PRI proposal, Bravo said. It would be virtually impossible to get the two-thirds majority needed to pass the constitutional amendment as long as the provision that calls for eliminating lawmakers chosen by proportional representation is included, he said.
Read more: PRI's leading presidential candidate has a big Achilles heel
The Sept. 19 quake and another temblor that killed almost 100 people two weeks earlier occurred less than nine months before the presidential election, where leftist former Mexico City Mayor Andres Manuel Lopez Obrador leads most early polls.
That leaves too little time for the nation's electoral institute to properly implement and monitor a complete shift to private contributions, according to Alejandro Schtulmann, who runs the political-risk consultancy Empra in Mexico City.
Mexican law currently limits private donations from supporters to 10 percent of money spent in the previous presidential campaign. While parties including the largest opposition PAN have sought to increase that ceiling, Schtulmann says they should return up to half of their public funding to the treasury now and then slowly move toward more private funding, otherwise they'll be lured to illegal means to pay for campaigns, he said.
"Money embezzled from state budgets. This is the main concern," Schtulmann said. "That's easier for governments to do than obtaining private funding."
Before it's here, it's on the Bloomberg Terminal.
LEARN MORE