Mexico Keeps Key Rate at 7%
By
Rates left on hold for second time after 18-month hiking cycle

Inflation still above 6 percent and Fed signals increases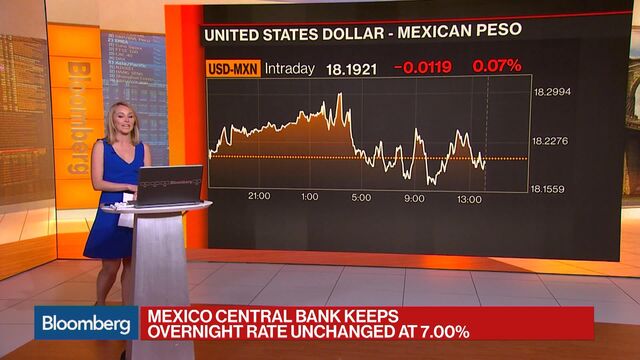 Mexico kept borrowing costs unchanged, saying inflation appears to have peaked and that any impact of two deadly earthquakes on prices and the economy would be limited.
Led by Governor Agustin Carstens, Banco de Mexico policy makers decided unanimously to keep the key rate at 7.0 percent for a second consecutive meeting, in line with the forecasts of all 25 economists surveyed by Bloomberg. In early September, inflation eased by the most this year, signaling that the trend of rapid cost-of-living increases had begun to reverse.
In response to a surge in price pressures brewing in Latin America's second-biggest economy, policy makers in late 2015 embarked on an 18-month tightening cycle that is now helping to slow inflation. Adding to the central bank's room for maneuver, two earthquakes that struck Mexico this month and killed more than 400 have led some economists to cut their 2017 growth forecasts and have cemented expectations for policy easing beginning in 2018.

"There are no clear hints in the statement that the bank is leaning to move the overnight rate in any direction," Alonso Cervera, chief Latin America economist for Credit Suisse Group AG said in an e-mailed response to questions. "I think the bank is going to be on hold for a long while. Next move is likely a cut, but it's clearly not imminent."
The peso was little changed after Banxico's decision and held a 0.2 percent gain to trade at 18.1740 per dollar.
Banxico reiterated that it will keep its prudent monetary policy and be alert to the impact of the earthquake on prices, which if they rose it would be temporary and on a limited amount of products, according to the bank's statement explaining its monetary policy decision.
'Start Calibrating'
The central bank also said it will also be alert to any knock-on effects from the Federal Reserve's monetary policy shifts. The country's currency dipped recently after Fed Chair Janet Yellen struck a hawkish tone on rates.
"Inflation will go down, but not at the pace to allow for a rate cut this year," Benito Berber, senior economist for Latin America at Nomura, said before the decision. Banxico "is going to keep the rate unchanged this year and start calibrating their message about the cut in the first months of next year, and deliver the cut depending on what happens with the peso."
If there are downward pressures on the currency, as Nomura forecasts, a rate cut won't come until after the July 2018 presidential election, Berber said. Nomura cut its economic growth estimate for this year to 1.8 percent from 2.2 percent because of the recent earthquakes and raised it to 2.2 percent from 2 percent next year on recovery spending.
Read more: Trump tosses grenade into Nafta 2.0 Talks: Quicktake
Banxico said that inflation's outlook may have deteriorated, while the outlook for growth has indeed grown worse, particularly due to a possible negative outcome in talks with the U.S. to rework the North American Free Trade Agreement.
"General annual inflation appears to have reached its ceiling (not taking into account the potential effect of the earthquakes, which should be short term and temporary)" the central bank said in its statement.
Inflation slowed in early September more than analysts expected after reaching its fastest pace in 16 years in August. The rate fell to 6.53 percent from 6.74 percent as price pressures on some fruits and vegetables abated and the impact from a surge in gasoline prices eased.
Analysts expect inflation to end the year at 6.30 percent and slow by the end of next year to 3.80 percent, according to the latest Citibanamex survey. They see Banxico hiking rates by a quarter point in August 2018, according to the median estimate.
— With assistance by Rafael Gayol
Before it's here, it's on the Bloomberg Terminal.
LEARN MORE