Lebanese Court Sentences to Death Cleric Who Clashed With Army
By
Firebrand was at center of 2013 deadly fighting with soldiers

Assir has accused military of siding with Shiite Hezbollah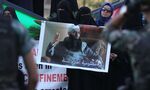 A military court in Lebanon on Thursday sentenced to death a radical Sunni Muslim cleric who was at the center of deadly clashes with the army four years ago.
Supporters held aloft photos of Ahmed al-Assir in the southern city of Sidon after the verdict, with some women in tears and chanting.
At least 37 people, including 12 soldiers, were killed in battles between the preacher's followers and the army in Abra, about a 10-minute drive from Sidon, in June 2013. Assir had accused the army of siding with the Iran-backed Shiite Hezbollah group against Sunnis in Lebanon.
Before he was sentenced, Assir told the court he refused to accept its verdict, saying it was subject to Iranian control, according to the official National News Agency.
He was arrested at Beirut's airport in 2015 after being on the run for two years.
Before it's here, it's on the Bloomberg Terminal.
LEARN MORE