Culture
Hef and His Pajamas Are Gone, Leaving the Suits to Save Playboy
By
Licensing long since replaced magazine as main revenue source

Founder and face of iconic men's magazine dies at age 91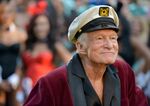 With Hugh Hefner and his slippers officially gone, it's now up to Playboy magazine's little-known owners to figure out what to do with his legacy and business.
With Hefner's death this week at 91, Rizvi Traverse, the private equity firm that's been trying to reinvent Playboy, loses the man who embodied the company's extravagant image. The dilemma now is whether to build off the vintage appeal of the "Hef" brand -- with his smoking jacket and Playmate girlfriends -- or use his passing as a way to make Playboy stand for something else.
"The brand is so tied to him and the lifestyle he led and his role in the public eye," Carrie Pitzulo, author of "Bachelors and Bunnies: The Sexual Politics of Playboy," said Thursday in an interview. "This just adds to the problem."

Playboy's famous centerfolds faded from view with the loss of magazine readers to digital outlets and the abundance of online pornography. In March 2016, the owners were exploring a possible sale, and the publication even tried going without nude photos. That didn't last long.
While Hefner family members are still involved with the company, it's spent years under the control of Rizvi Traverse, a firm with offices in New York, Los Angeles and Birmingham, Michigan, also known for investing in Twitter Inc. and Snap Inc. Founders Suhail Rizvi and John Giampetroni keep a low profile, and the rare photos of them online show them in suits and ties, not silk pajamas.
Ben Kohn, the Rizvi Traverse managing partner appointed last year to run Playboy as interim chief executive officer, uses the language of a corporate strategist, not a swinging bon vivant, to describe the "modern global lifestyle brand" he's building. But selling that lifestyle becomes more difficult when "Hef" isn't around to promote it, said Pitzulo.
The firm acquired a majority stake after Playboy went private in 2011 via a $207 million buyout. Kohn took over leadership after the former CEO, Scott Flanders, left to run eHealth, a private health insurance exchange.
Kohn declined to be interviewed, citing a desire to respect the family. In a statement, Cooper Hefner said his father "defined a lifestyle and ethos that lie at the heart of the Playboy brand, one of the most recognizable and enduring in history."
In 2014, the company refinanced $147 million of first-lien debt with a single lender after its financial performance deteriorated. That same year, Standard & Poor's said the publisher was "vulnerable" because of "sporadic operating shortfalls," competition in brand licensing and a worsening outlook for print media.
While many think first of Playboy magazine, the company in recent years has made the bulk of its revenue by licensing its name and iconic bunny logo on everything from clothing and perfumes to purses and jewelry. Products featuring the Playboy trademarks drive more than $1 billion in sales annually, according to the company, which doesn't disclose its operating results. It's even trying to bring back Playboy nightclubs.
Tireless Promoter
Hefner was a tireless promoter. Until 2010, he starred in a reality show on E! called "The Girls Next Door," featuring the girlfriends living with him at the Playboy mansion.
Playboy was such a reflection of Hefner's worldview that for years he personally approved everything that went on its pages, Pitzulo said. But he also trained his children to run the business. His daughter, Christie Hefner, 64, part of the first generation of his children, ran the company until 2009. Now the task of re-imagining Playboy falls to Cooper Hefner, who is chief creative officer of Playboy Enterprises.
"Hefner has been very aware of his legacy and has been making plans for this moment," Pitzulo said. "Under the son's leadership, can Playboy become something new? Can they really reinvent themselves and find a way to be culturally relevant?"
It's not a new question for Hefner's empire.
"What Playboy has also been very good at doing is finding another place to get their foot in the door," Pitzulo said, noting Playboy's entry into cable TV in 2004 and licensing.
New Identity
As the media and cultural landscapes have shifted, though, Playboy has been searching for a new identity. Last year, Playboy stopped showing nudity in its pages for the first since Hefner introduced the magazine in 1953. Then, earlier this year, it reinstated nudity.
"Nudity hadn't been the problem -- it was how it'd been presented," Cooper Hefner told the Hollywood Reporter last month.
Len Stein, a public relations consultant and former employee at the company, agrees, and suggested nude women remain the company's most recognizable asset. He suggested virtual reality would be a logical area of growth for the company.
"Playboy has some equity in that niche when it's ready," he said. "Sex sells."
More recently, Hefner's empire has sold assets to shore up its wobbly finances, including its cable network. The company also outsourced magazine printing to focus on licensing.
The company sold the Playboy Mansion last year for $100 million to a 32-year-old son of a billionaire who already owned the property next door, though Hefner continued to live at the mansion. The buyer, Daren Metropoulous, said he planned to reconnect the estates after Hugh Hefner was gone.
Before it's here, it's on the Bloomberg Terminal.
LEARN MORE