Greens in Focus as New Zealand Waits on Peters to Choose Government
By
National would like to talk to Greens, deputy leader says

German coalition talks are an example to New Zealand: Delamere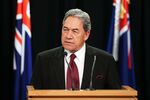 New Zealand's ruling National Party on Friday signaled an interest in talking to unlikely bedfellows the Greens as the country waits on the formation of a new government.
"We'd quite like to talk to them in some respects," National Deputy Leader Paula Bennett told Newshub in an interview. "I mean why not, you want to talk to everybody and have a conversation at some levels, but I don't think that they're up for it."

Six days after an inconclusive general election, National and the opposition Labour Party are still waiting to speak to New Zealand First leader Winston Peters, who holds the balance of power. National won 58 of the 120 seats in parliament while Labour got 45, New Zealand First 9 and the Green Party 7.
Read more: What's next for New Zealand after stalemate vote?
While National could theoretically achieve a parliamentary majority with the Greens, the chances of the two reaching a deal are remote. The left-leaning Greens are allied to Labour and campaigned to remove National from office -- something leader James Shaw has stressed when asked whether he'd talk to National.
"If National really wanted to work with @NZGreens they shouldn't have spent the last nine years increasing cows, motorways, oil exploration and poverty," Green member of parliament Julie Anne Genter tweeted Friday. "Actions speak louder than words."
Still, in New Zealand's 21 years of proportional representation, which is designed to give smaller parties a voice, the Greens have never been in government, leaving them unable to progress their environmental and social policies.
Bennett said Friday there are "definitely" areas where National can find common ground with the Greens, "and areas that they can make gains on actually."
German Example
A petition for a National-Green coalition, not authorized by either party, has gathered more than 8,000 signatures. The idea is also finding favor with commentators tired of watching Peters wield so much power.

The 72-year-old maverick has said he'll wait until final election results are published on Oct. 7 before deciding whether to back a National or Labour-led government. He is expected to extract policy concessions and ministerial positions in return for his support.
"Winston is in the kingmaker role, but he's only there because the Greens are so stupid that they said we aren't going to talk to the Nats," former New Zealand First politician Tuariki Delamere told Radio New Zealand yesterday. If Germany's Green Party can consider entering a coalition with Chancellor Angela Merkel's conservatives, "I can't see why the Greens can't do that here," he said.
Before it's here, it's on the Bloomberg Terminal.
LEARN MORE