Goldman Sachs AM Sees China Dominance in Dollar Bonds Rising
By
Asia dollar bond sales seen near $200 billion for 2018: Niaz

China leadership reshuffle is biggest uncertainty next year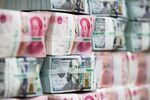 Chinese offshore dollar bond issuance will reach as much as 80 percent of the Asia ex-Japan market in three to five years as buying support from the region grows and the country continues its reform drive, according to Goldman Sachs Asset Management LP.
Issuers from China accounted for about 60 percent of dollar-denominated bonds priced in Asia excluding Japan so far this year, data compiled by Bloomberg show. Sales will grow until they come more in line with China's dominant status in regional equity markets and GDP, said Singapore-based Salman Niaz, executive director of emerging-market debt at Goldman Sachs Asset Management.
China's "dollar bond market share is not there yet," Niaz said in an interview. "It is reasonable to expect that over the next three to five years, China would have a 70-80 percent share of the Asian dollar bond market."

Investors have gorged on a record $224 billion of bond offerings in Asia ex-Japan so far in 2017 as they search for yield, according to data compiled by Bloomberg.
Niaz expects issuance in the region to be close to $200 billion next year, and said that the local bid is a good sign for the market in the long run. Savings from China and Japan need to be deployed, he said, noting also that with their combined balance sheets, China's five largest insurance companies "could buy the Asia market a few times over."
Read: Just 3% of a Huge China Dollar Bond Was Bought by Non-Asians 
The biggest uncertainty will be the reshuffle of China's top leaders, he said. Communist Party officials are weeks away from their twice-a-decade congress that is expected to help shape President Xi Jinping's influence into the next decade. Still, it will likely continue its reform strategies around deleveraging, credit creation, the housing market and industries with excess capacity, Niaz said. 
Ratings Cut
S&P Global Ratings last week cut China's sovereign credit assessment for the first time since 1999, and revised its outlook to stable from negative, citing the risks from soaring debt. The firm also warned this week the trend of tighter spreads on Asian bonds to near a decade low amid abundant liquidity may not last as global monetary stimulus will inevitably fade.
The average spread on dollar bonds from China's corporations stood around 265 basis points on Wednesday, the lowest since July 28, according to JPMorgan Chase & Co. indexes. "During September, the JACI index has been tightening, in part, due to less than expected supply of high quality new issuance from China," said Niaz.
Goldman Sachs Asset Management's top picks in the region:
Niaz prefers high yield credits to investment grade in general; thinks high yield looks good when "volatility remains low and default cycle hasn't been picking up," although valuations are a bit stretched
Likes companies that have a track record in the market, prefers power generation, telecommunications and consumer-goods companies in the BB category, and as well as single B rated issuers that are deleveraging
Pick-up in economic growth, earnings recovery and lower price volatility in emerging markets are three main reasons contributing to recent rally in credit markets
Before it's here, it's on the Bloomberg Terminal.
LEARN MORE