Europe's Battered Leaders Head to Tallinn Seeing Sunnier Days
By and
EU leaders meet in Estonia to discuss Brexit, euro zone, taxes

Surprise populist surge in German election tempers enthusiasm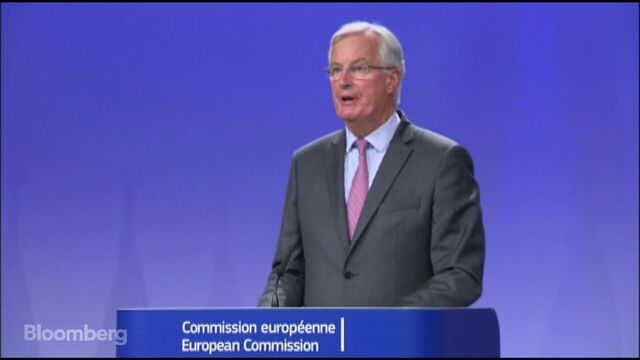 Less than a week after a populist party's surge rocked Germany's elections, a bruised Angela Merkel will join her fellow European Union leaders in the Baltic city of Tallinn to plot a way forward.
The Estonian capital, just 130 miles from the Russian border, will host a dinner on Thursday of government chiefs from all but one of the bloc's 28 members, with Spain's Mariano Rajoy staying home to deal with the Catalan separatist dispute. While there's no formal agenda, diplomats expect British Prime Minister Theresa May to outline her compromises on Brexit, French President Emmanuel Macron to present his plans for bolstering European power and Merkel to explain the repercussions of the German election.
"The fear of the European Union disintegrating after Brexit is gone," said Maria Demertzis, Deputy Director of the Brussels-based Bruegel research institute. "There is optimism. There are good reasons for optimism, but whether we are going to see a European reform -- I would be very cautious about that."
A year ago, shortly after the U.K.'s shock vote to leave the EU, the bloc's leaders shut May out of a meeting in the Slovak capital Bratislava as Brexit, the fear of nationalist parties and the arrival of hundreds of thousands of refugees to Europe threatened to overwhelm its decision-makers. But May's participation in Estonia alongside France's energetic, pro-EU leader suggests the bloc's leaders are in more confident mood.
'No Texts'
The EU thinks the Brexit talks are progressing with minimal disruption and that, in a speech in Florence last week, May showed that the U.K. has finally capitulated to many of the demands on financial obligations and the jurisdiction of the European Court of Justice. Macron gave details on a wide range of initiatives in a speech in Paris on Tuesday, including proposals for European defense and migration policies and strengthening the euro area.
"In order to ensure an open, frank and informal exchange on these issues, there will be no texts on the table, and no written conclusions will be drawn from our discussion," EU President Donald Tusk said in a letter to leaders last week. In the past year, "we managed to sort out several issues, which is why the situation in Europe is better today, and we can look to the future with more optimism."
Leaders will spend Friday at a summit devoted to digital issues, which the Estonian government -- currently the holder of the EU's six-month rotating presidency -- considers the country's biggest selling point. It's also an area where EU decision makers fear Europe is at risk of falling behind, especially as it may be drowned out by more pressing existential concerns.
Tackling Techs
The leaders may also discuss a proposal to institute a new levy for digital companies, such as Amazon.com Inc. and Facebook Inc., as the bloc seeks to align its tax policy with more modern and technologically focused businesses.
The discussion follows a push by a group of countries, led by France, to better ensure that tech giants pay their fair share. The debate has only intensified as the industry, where value added tends to be virtual rather than material and digital companies use loopholes created by uncoordinated European regulation, eschews traditional tax practices. 
As arguments mount across the EU to tackle the issue, some countries have voiced reservation, saying it should be handled at a global level instead. Any opposition will affect the legislation since the bloc requires unanimity among its 28 members to implement tax policies. And Merkel's less-than-overwhelming victory hasn't made things any easier.
"With a complex and tedious coalition-building process ahead of us in Germany, Berlin's inactivity will considerably narrow the window of opportunity for EU reform on key issues such as euro-zone reform, migration and security and defense," said Julian Rappold, a senior policy analyst at the European Policy Centre.
Before it's here, it's on the Bloomberg Terminal.
LEARN MORE