Trump Must Urgently Step Up Puerto Rico Help, Democrats Say
By
Lawmakers cite 'dire humanitarian situation' on island

Increased assistance for restoring electricity sought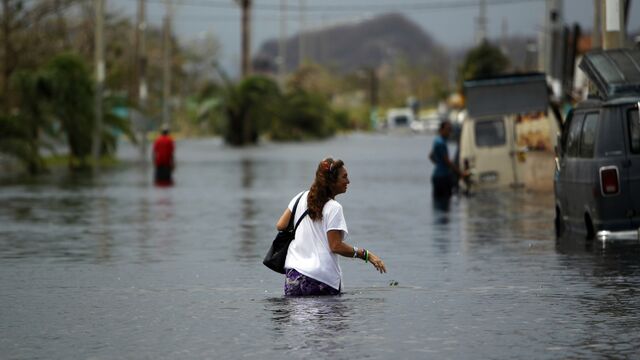 Democrats said the Trump administration must urgently step up its response helping Puerto Rico recover from devastation caused by Hurricane Maria, which knocked out the island's electric grid and left hospitals with no running water.
"This is a national emergency," House Minority Leader Nancy Pelosi of California told reporters in Washington. "We want everything to move faster."
Representative Nydia Velazquez of New York said, "This administration's response has been inexcusably slow and inadequate."
Thirty-eight senators signed a letter to President Donald Trump, dated Wednesday, warning of a "dire humanitarian situation" in both Puerto Rico and the U.S. Virgin Islands. The letter urged the president to take steps including a broader disaster declaration in Puerto Rico, a White House coordinator for rebuilding efforts and increased federal assistance to restore electricity.
"At a time when there is not a second to lose and the health and well-being of millions of Americans in the U.S. territories depend on swift action, we have identified several areas where strong and decisive leadership is needed," wrote the Democrats, including the Senate's minority leader, Chuck Schumer of New York.
The island of 3.4 million is in the throes of a burgeoning crisis, without clean water and electricity needed for basic health-care services and food storage, the result of Hurricane Maria, which struck the U.S. territory more than a week ago.
Trump took to Twitter to defend his administration's response. "FEMA & First Responders are doing a GREAT job in Puerto Rico. Massive food & water delivered. Docks & electric grid dead. Locals trying.......really hard to help but many have lost their homes. Military is now on site and I will be there Tuesday. Wish press would treat fairly!"
"Puerto Rico is devastated," he added. "Phone system, electric grid many roads, gone. FEMA and First Responders are amazing. Governor said "great job!""
Katrina 2017
Representative Luis Gutierrez of Illinois said what's unfolding on the island is worse than the aftermath of Hurricane Katrina, which caused devastation along the Gulf Coast in 2005.
"This is Katrina 2017, make no mistake about it," he said.
Richard Neal of Massachusetts, the ranking Democrat on the House Ways and Means Committee, cited reports that dialysis patients on the island aren't receiving necessary medical care.
"The administration and Congress must act immediately to get urgently needed fuel and supplies to Puerto Rico," he said. "If the needed supplies and fuel cannot be brought to the island in a timely manner, the administration must work to evacuate patients in the most critical condition."
The White House will ask Congress for more money to assist Puerto Rico "in the next two to four weeks," presidential adviser Tom Bossert said Thursday. Among the biggest beneficiaries of federal aid will be Puerto Rico's electric power authority and water authority.
Velazquez called for a longer suspension of a law called the Jones Act that restricts the use of foreign ships operating in U.S. waters to accelerate delivery of aid to the island. She also said the seven-member fiscal control board overseeing Puerto Rico must reconsider its debt-payment plan for the island as a result of the storm.
Puerto Rico has the population of Connecticut and an economy smaller than Nebraska's. It also has more debt -- $74 billion -- than any U.S. state government except California, New York and Massachusetts. The debt, a result of financial mismanagement, Wall Street complicity and good intentions gone awry, will limit the territory's ability to rebuild.
How Puerto Rico Was Submerged Under Waves of Red Ink: QuickTake
Velazquez also called on Congress to quickly consider a relief package of about $50 billion to $70 billion. The aid should include community development grants, environmental clean up and Medicaid funds, she said.
Senator Marco Rubio of Florida said Thursday that the Trump administration hasn't grasped the significance of the damage in Puerto Rico compared to recent hurricane damage in his state and Texas.
"The administration flipped the switch on the traditional model, and the traditional model" in this case isn't working, he said. 
He said logistics are creating a significant problem and that the U.S. military should be used to coordinate relief efforts.
Even with the temporary waiver of the Jones Act, there are still significant logistical challenges getting supplies inland. Thousands of cargo containers bearing millions of emergency meals and other relief supplies have been piling up on San Juan's docks since Saturday. The mountains of material may not reach storm survivors for days.
Republican House and Senate spending panel members this week said that it has been difficult to begin a proper disaster cost assessment of Maria's damage, but that once those assessments come in, Congress will provide an aid package.
— With assistance by Laura Litvan
Before it's here, it's on the Bloomberg Terminal.
LEARN MORE