Citi Up Against Apple, Google in Hunt for Tech Experts
By
Bank looking to hire 50 engineers in Israel for tech lab

Developers already outnumber bankers among Citi's 310 workers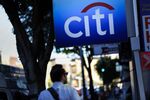 Citigroup Inc. is hiring another 50 engineers in Israel, where fierce competition from technology giants is frustrating efforts to expand a workforce that already employs more programmers than bankers.
The bank is recruiting developers in fields such as big data, artificial intelligence and interface design for its tech lab, a division set up in 2011 to service the global markets platform. Six years on, the lab is involved in a broader suite of businesses including private banking and Citi's trading and research platform for institutional clients, according to Neil Corney, the bank's chief executive officer in Israel.
"We don't want Citi in Israel to be a research and development center," he said in an interview at his Tel Aviv office. "We're after high-end innovation."
Wall Street firms are spending billions on cutting-edge technology to automate processes and cut costs. BlackRock Inc., the world's biggest asset manager, opened an office in Israel this year, drawn in part by the country's technological prowess. JPMorgan Chase & Co., the largest bank in the U.S., has 35 job openings for developers and programmers in Israel, according to a LinkedIn search.
Finding candidates for such positions is harder than it may seem in a country with the highest number of tech companies per capita in the world -- about 5,000 startups for a population of 8.5 million. More than 350 multinational companies have built research and development centers in Israel, according to data from IVC Research Center.
Citigroup itself employs 310 in Israel, where demand for programmers has grown so fast that there is now a shortage of engineers.
"Our biggest rivals for talent are not the global banks," Corney said. "It's the leading tech companies such as Facebook, Google and Apple that we have to compete with for talent."
Before it's here, it's on the Bloomberg Terminal.
LEARN MORE