Caltech Gains 17.8%, Among Highest Endowment Returns
Michael McDonald
Returns helped boost fund's value to $2.6 billion through June

Only Grinnell College has posted a better gain at 18.8%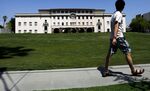 California Institute of Technology's endowment gained 17.8 percent in the year through June, placing it among the top performing college funds.
The returns helped boost the value of Caltech's fund to $2.6 billion as of June 30, according to a person with knowledge of the matter, who asked not to be identified because the information isn't public.
Only Grinnell College has posted a better return so far, at 18.8 percent, among at least two dozen of the largest college funds that began reporting, according to data compiled by Bloomberg. Grinnell's endowment had a preliminary value of $1.8 billion at June 30. Harvard University has the lowest gain at 8.1 percent.
Following broad losses in the prior period, the average increase for more than 400 endowments and foundations in fiscal 2017 was 12.7 percent, according to early data by Cambridge Associates.
Caltech's endowment has a Sept. 30 fiscal year, but the 2017 returns are through June 30 to offer comparisons for when most schools report. Caltech gained 8 percent in its last fiscal year through Sept. 30, 2016.
The fund is managed by Scott Richland, who was hired in 2010. Caltech is a small elite university based in Pasadena with about 2,200 students. In the year through Sept. 30, 2016, the top asset allocations were 31 percent in alternative securities and 27 percent in global developed equity markets.
Before it's here, it's on the Bloomberg Terminal.
LEARN MORE