Abe's Tax-and-Spend Plan Quiets a Fiscal Dove and a Hawk
By and
Strategy strikes balance between growth, fiscal consolidation

That's important for the PM as election looms next month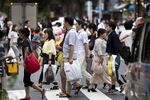 Prime Minister Shinzo Abe's decision to go ahead with a tax hike, while diverting a large amount of the revenue into social spending, appears to have succeeded in damping criticism from some fiscal hawks and doves who advise the Japanese government.
The fact that the sales levy rate will go up is "an extremely large step," although the spending plan sets a "bad precedent" for future tax hikes, said Takero Doi, an advocate of paying down debt who sits on the Tax Commission that advises the Cabinet Office and finance ministry.
Satoshi Fujii, a long-time proponent of expansionary fiscal policy and an adviser to the Cabinet Secretariat, praised the prime minister's efforts to boost spending, while expressing disappointment that the tax hike wasn't delayed until inflation picks up.
While neither Doi nor Fujii offered a ringing endorsement of Abe's economic credentials, avoiding a heated debate is a win in itself with an election approaching. And it's no small feat given the divide among experts in Japan and around the world on the merits of fiscal austerity versus increased stimulus.
Read more: Abe bets his future on election.
Here's what the pair had to say in interviews this week about key issues in the economic debate:
Sales Tax
Fujii, who is also a professor at Kyoto University, said the best thing the government could do would be to eventually eliminate the levy and instead rely on income and corporate taxes for revenue.
Doi, a professor at Keio University in Tokyo, anticipates the tax will have to rise to 15 to 20 percent by the mid-2020s, given Japan's debt load and the rising social welfare burden.
Abe has said the levy will rise to 10 percent in October 2019, from 8 percent now, unless there is an economic crisis. When it last went up, from 5 percent in April 2014, the economy slipped into recession.
Debt Targets
Finance Minister Taro Aso and Economy Minister Toshimitsu Motegi both indicated this week that achieving a surplus in the primary balance by fiscal 2020 looks unlikely given Abe's plans to redirect sales-tax funds away from debt payments to education programs.
Doi said said the primary balance surplus can be delayed, but not for long, and that debt reduction is needed to reduce inter-generational inequality as the population ages and shrinks.
The primary balance, which weighs the government's total spending, minus interest payments on debt, against tax receipts, is projected to be a deficit of 18.4 trillion yen ($163 billion) this fiscal year, according to the Cabinet Office.
Read more: Debt markets fret over primary balance.
According to Fujii, the government should focus instead on lowering the ratio of debt-to-gross domestic product. From this perspective, they key is getting the economy to grow, and it doesn't matter so much if nominal debt rises, so long as GDP is expanding more rapidly.
"There's no solution other than growth. If you have growth, the finances will improve," said Fujii. "You can't achieve either growth or consolidation under austerity."
Japan's public debt burden has remained fairly steady around 240 percent of GDP in recent years, according calculations by the International Monetary Fund.
Government Spending
Both Fujii and Doi agreed that the government should limit annual increases in social security spending to 500 billion yen. But that's about where their agreement ends.
Abe plans 2 trillion yen in additional spending, focused on areas like extending the scope of free education and child care. Fujii said this is good, but advocates for much more, including supplementary packages of about 15 trillion yen this year and next.
There's room for more investment in disaster preparedness, bullet train infrastructure and research and development, he said.
Doi said he prefers the idea proposed by other ruling party lawmakers earlier this year of a "child insurance" scheme in which increases in insurance premium payments fund education.
Outside View
Tobias Harris, vice president at Teneo Intelligence, a political risk advisory firm, said from Washington that Abe has shown that he knows how to soothe rivals and make his supporters happy for now, even if the fault lines open again later.
"That's the classic Abe way of doing things," said Harris.
Before it's here, it's on the Bloomberg Terminal.
LEARN MORE