Japan Election Turmoil Sets Up Two-Horse Race: Abe Versus Koike
By
Main opposition Democratic Party will effectively disband

Koike launched Party of Hope ahead of Oct. 22 election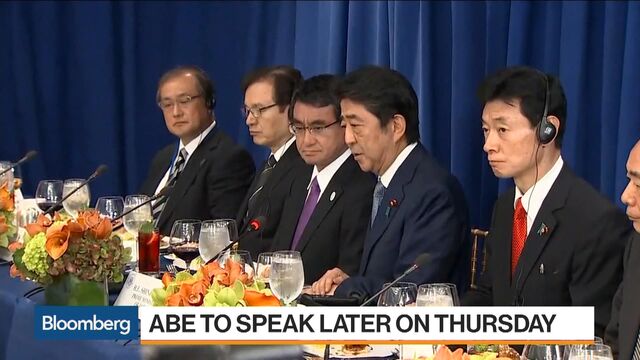 Japan's main opposition party agreed to merge with a new group created by Tokyo Governor Yuriko Koike, setting her up as the main challenger to Prime Minister Shinzo Abe as he dissolved parliament ahead of an Oct. 22 election.

The Democratic Party, one of Japan's top political forces for the past two decades, decided on Thursday to run its candidates under Koike's Party of Hope, which was unveiled on Monday.
Abe criticized the plan, telling members of his Liberal Democratic Party that they "cannot entrust the safety of Japan and the future of our children to a party that changes its banner just for the sake of an election."
Abe is looking to capitalize on a boost in his approval ratings after North Korea fired missiles over Japan, which diverted attention from cronyism scandals that had dented his popularity. Koike's rise threatens to make the vote much closer than previously thought, potentially strengthening calls for his replacement in a ruling-party leadership contest next year even if the LDP wins the election.
In a survey conducted by the Mainichi newspaper Sept. 26-27, 18 percent of respondents said they would vote for Koike's Party of Hope in the proportional representation section of the election, placing it second behind Abe's ruling Liberal Democratic Party on 29 percent. A poll published in the Nikkei newspaper on Monday had seen Abe's party leading both Koike's group and the Democrats by a five-to-one margin.
Abe 'Vulnerable'
"The LDP is vulnerable as the Tokyo governor takes her policies nationwide to form a strong opposition," Amir Anvarzadeh, head of Japanese equity sales at BGC Partners Inc. in Singapore, said in a note to clients. He added that Abe could even be facing a similar fate to that of UK Prime Minister Theresa May, who lost her parliamentary majority in a snap election in June.
Financial markets so far have shown little sign of concern about any political shift in Japan. The Topix index of Japanese shares is close to the two-year high hit Monday amid optimism that the Abenomics program that has brought massive injections of liquidity along with investor-friendly corporate governance reforms, will continue for another four years. 
Abe has been in power since 2012, and could become the longest-serving prime minister in Japanese history if he wins the general election and the party leadership vote next year. The LDP has ruled Japan for all but a handful of years since the 1950s.
Party Rebel
Abe said Monday that he wanted to test public opinion on his plan to divert some revenue from an upcoming sales tax hike to reduce education costs for working families, putting off a target for improving the fiscal balance. He said he would remain in office if his ruling coalition achieves a simple majority of the 465 seats up for grabs.

Koike is a former newscaster who later joined Abe's party, serving stints as environment and defense minister. In 2008 she ran unsuccessfully for leadership of the LDP, which would've made her prime minister.
She has fought her party's establishment since it declined to back her in the governor's race last year, which she won. Afterward she officially left the LDP and formed a new party -- Tokyo Residents First -- that crushed Abe's party in local elections in July.
Koike's new national party wants to delay the sales tax hike because of economic risks, and will also aim to phase out nuclear power -- a source of widespread unease in Japan since the 2011 Fukushima disaster. By contrast, Abe's LDP plans to restart nuclear reactors, aiming to have atomic power make up as much as 22 percent of the nation's electricity supply mix by 2030.
Democratic Party leader Seiji Maehara told reporters on Thursday that the two parties had similar policies on nuclear power. He added that he would seek a full merger, including upper house lawmakers, after the election.
Nuclear Industry
Shares in Kansai Electric Power Co, the Japanese utility most dependent on nuclear power before the disaster, tumbled more than 5 percent on Thursday as Koike's party gained steam. A big win for her could impact the nation's nuclear regulator and restarting reactors, according to Tom O'Sullivan, founder of Tokyo-based energy consultant Mathyos.
The ruling coalition controls about 68 percent of seats in the 475-member lower house of the national parliament, including 287 for the LDP and its allies and 35 for Komeito, according to the parliamentary website. The Democrats hold 87 seats in conjunction with the Club of Independents.
The total number of seats is set to be cut to 465 in the next election as part of a reform aimed at reducing the excessive weight given to rural votes.
— With assistance by Takashi Hirokawa, Chris Anstey, Stephen Stapczynski, and Anna Kitanaka
Before it's here, it's on the Bloomberg Terminal.
LEARN MORE