A Canadian Debt Fund Is Betting Big on Trump's NATO Defense Plan
By
Sprott Canadian Senior Debt Fund eyes parts manufacturers

Aims to provide high-yield secured loans with 9%-12% returns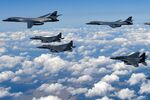 A private debt fund in Canada is betting that U.S. President Donald Trump's push for more NATO defense spending will bring fortune north of the border as contractors seek high-yielding loans to fund their businesses.
The Sprott Canadian Senior Debt Fund is targeting small-to-midsize Canadian companies that manufacture parts for defense giants like Lockheed Martin Corp. and Boeing Co. to make and distribute high-yield, first-lien secured loans. It aims to raise an initial C$500 million ($404 million) to chase deals from among a select set of about 800 companies in Canada, according to Ramesh Kashyap, senior vice president in the alternative-income group at Ninepoint Partners LP.
"Trump is asking all the NATO members to pick up a bigger share," said Kashyap. Ninepoint is the new name of SPR & Co., which now runs the Canadian diversified assets of Sprott Asset Management, with about C$3 billion under management. "The defense spending overall as part of NATO is going to go up."
Private credit funds have emerged in Canada as pension funds, endowments and life insurance companies search for higher returns in a low-yield world. These non-traditional sources of funds are filling a gap as new regulations and capital requirements make it too onerous for the country's big banks to lend to smaller and riskier companies.
Target Companies
The goal is to raise at least C$200 million by the end of January 2018 from institutional investors, Kashyap said. The fund seeks a 9 percent to 12 percent net return to investors, through deals that have an average loan size of C$15 million, but which could go as high as C$30 million. Target companies will typically have revenue under C$200 million and be over-leveraged, with their business concentrated with a few big clients, which means that big banks generally won't lend to them, Kashyap said.
The fund, which is sub-advised by Waygar Capital Inc., will focus one-third of its business on lending to the defense sector. Another third will come from restructuring and turnaround, and the rest from traditional asset-based lending, Kashyap said.
Trump has called for North Atlantic Treaty Organization allies to meet a 2 percent spending goal to help the U.S. pick up the tab. The U.S. is projected to spend 3.58 percent of GDP on defense this year, down from 3.61 percent in 2016. NATO said its European members will spend an average 1.47 percent of their economic output on defense this year, from 1.45 percent in 2016. 
Trump Irks NATO Allies as He Asks for Their Money: QuickTake Q&A
Canada spends about 1.2 percent of GDP on defense, with a plan to lift it to 1.4 percent by 2025. Prime Minister Justin Trudeau pledged to increase the defense budget to C$32.7 billion by the 2026-27 fiscal year, from C$18.9 billion in 2016-17. Over 20 years, new military funding will total C$62.3 billion.
Before it's here, it's on the Bloomberg Terminal.
LEARN MORE