Who Follows Corbyn? U.K. Labour Has Women Lining Up Once He Goes
By
Long Bailey and Rayner have northern working-class cred

Thornberry new favorite with bookies after attack on Boris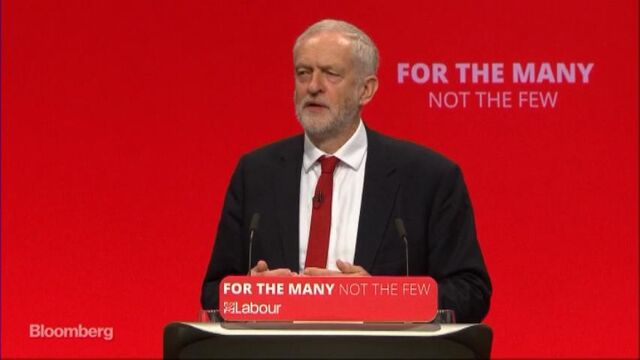 Jeremy Corbyn's safe at the helm of Britain's opposition Labour party. But he's 68 and he can't go on for ever. And the signs point to his replacement being a woman.
Two stars shone brightly at this week's party conference: Business Secretary Rebecca Long Bailey and Shadow Education Secretary Angela Rayner. They are young and from working-class backgrounds, key requirements to appeal to rank-and-file members in a party that has taken a harder turn for the left.

Both are from the Manchester area, with the accent to prove it.
"When I was little, my dad would tell me stories of his job in Salford, unloading oil tankers," Long Bailey, 38, told the conference. "My dad's work was unskilled, but it paid well." Her parents, she said, had suffered "poverty-plagued childhoods."
Rayner, a year younger than Long Bailey, told delegates how she became pregnant at 16. "My mum had a difficult life, and so did I," she said, "I was out of school and looking for work, but without qualifications to offer."
The new favorite to succeed Corbyn -- Emily Thornberry, the shadow foreign secretary -- has a rather posher southern English accent, though she also has a backstory that includes growing up in social housing.

Three years ago, however, in the pre-Corbyn era, she had to resign as shadow attorney-general over a Twitter message that appeared to pour scorn on working-class values in its depiction of a house she'd seen with a white van -- the vehicle of choice of the self-employed workman -- outside and three English flags hanging from the windows.
She seems to have been forgiven. "Punters are raving about Thornberry," bookmaker Ladbrokes Plc said, after her conference speech Monday in which she suggested Foreign Secretary Boris Johnson should face a paternity test for Brexit. It brought the house down.
Before it's here, it's on the Bloomberg Terminal.
LEARN MORE