Trump's Tax Plan With GOP Leaders Reaches 'Now or Never Moment'
By , , and
Framework for tax overhaul would slash corporate rate to 20%

Rate for pass-through businesses would be capped at 25%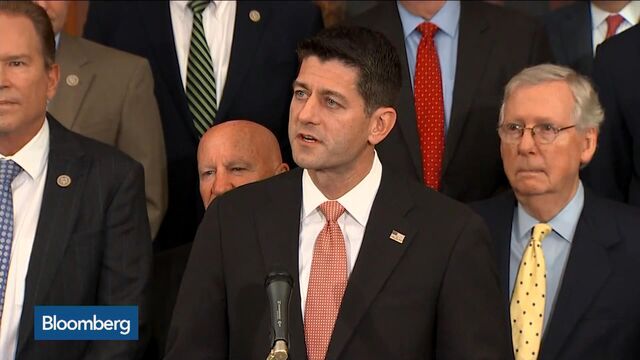 President Donald Trump and Republican leaders projected unity -- and won initial approval from conservative groups -- as they announced a long-awaited tax plan that would represent a major legislative win this year.
Trump called the framework "a revolutionary change" that will spur economic growth and higher wages for average workers during a speech in Indiana Wednesday afternoon. It will be "the largest tax cut in our country's history," he said.
"For all of us, this is a now or never moment," House Speaker Paul Ryan said at a press conference formally unveiling the tax plan. "We can finally get this done."
The plan set off immediate debate over how much top earners would benefit. The framework that GOP leaders released proposes cutting the top individual rate to 35 percent -- but leaves it up to Congress to decide whether to create a higher bracket for those at the top of the income scale.
The rate on corporations would be set at 20 percent, down from the current 35 percent. Trump had previously called for a 15 percent corporate rate, but told reporters Wednesday that he did so only in order to achieve the 20 percent figure in negotiations with Congress. He called 20 percent "a perfect number," and "a red line" that was non-negotiable.
Under the framework, businesses would be allowed to immediately write off their capital spending for at least five years. Pass-through businesses would have their tax rate capped at 25 percent.
U.S. stocks surged, the dollar extended gains and Treasuries slumped on speculation the plan will become law this year.
The plan sets out three tax brackets for individuals -- 12 percent, 25 percent and 35 percent, down from the existing seven rates, which top out at 39.6 percent. But that's not firmly set, as congressional tax-writing committees will be given flexibility to add a fourth rate for the highest earners -- an effort to prevent the overhaul from providing too much of a benefit for the wealthy.
Panel's Plans
There's significant support among Republican members of the tax-writing House Ways and Means Committee to create a special top income-tax bracket for the highest earners, according to a GOP member of the panel who asked not to be named because discussions are private. Still, House Ways and Means Chairman Kevin Brady of Texas has said he's committed to offering across-the-board tax relief. Trump has repeatedly said he's focusing on middle-class individuals.

At the same time, though, the tax plan calls for repealing the alternative minimum tax, the estate tax and the generation-skipping estate tax, all of which would be a boon for higher earners and the wealthy.
"The Republican tax reform plan will turbo-charge the economy, create millions of new jobs and make America the best place in the world to invest, build and create," said Grover Norquist, the anti-tax advocate who runs the group Americans for Tax Reform. It was one of several conservative groups that expressed support for the framework.
Senator Bernie Sanders slammed the plan as "providing hundreds of billions in tax breaks to the wealthiest people and most profitable corporations in this country."
"It is particularly obscene to repeal the estate tax that would provide a $269 billion tax break to the top 0.2 percent," said Sanders, a Vermont independent who caucuses with Senate Democrats.
The release of the plan is the result of a months-long process to craft a tax overhaul that was a key promise in Trump's campaign. But it marks only the start of what could be a brutal fight in Congress among lawmakers who disagree on key elements of the framework. One influential skeptic has been Senate Finance Committee Chairman Orrin Hatch, a Utah Republican, who pledged his committee would not be a "rubber stamp" for the plan.
Other Republicans cheered the plan. "At first glance, the policies released today are good news to the American people," Representative Mark Walker of North Carolina, chairman of a large conservative caucus, said in statement. "We need to begin acting on this framework legislatively as soon as possible."
The tax effort begins one day after Senate leaders decided not to move forward with a vote on repealing Obamacare, one of the most central promises of Trump's presidential campaign. But Trump has said that tax legislation -- which he calls essential for stimulating economic growth -- has been his main focus.
Trump has told others that he expects lawmakers to work at a brisk pace. If not, he and the Republican Congress would end 2017 without a single major legislative victory.
"The Ways and Means Committee is ready to turn this framework into legislation that President Trump can ultimately sign this year," Brady said during the press conference Wednesday afternoon. "This is our year to chart a new course."
International Plans
On the international side, the plan would move toward a "territorial" approach that would scale back the U.S.'s unique worldwide approach to taxing corporate profits regardless of where they're earned. But it includes "rules to protect the U.S. tax base by taxing at a reduced rate and on a global basis the foreign profits of U.S. multinational corporations." The amount of that reduced rate isn't specified.
Companies with accumulated offshore profits would be subject to a one-time tax on those earnings -- clearing the way for that income to return to the U.S. The rates that would be applied are unclear, but there would be a higher rate for income held in cash compared to the rate for less liquid investments. Firms would be able to pay the new tax over several years.
'Full Expensing' and Other Tax Terms to Know: QuickTake Glossary
Under current law, companies can defer paying U.S. tax on their offshore earnings until they bring them to the U.S. As a result, U.S. firms have stockpiled an estimated $2.6 trillion in profit offshore.
So-called pass-through entities, which include partnerships and limited liability companies, would see their rate capped at 25 percent. Currently, those businesses -- which can range from mom-and-pop grocers to hedge funds -- don't pay income tax themselves but pass their earnings through to their owners, who then pay tax based on their individual rates.
While the pass-through rate cut would represent a major tax break for lucrative pass-throughs, tax-writers would craft measures aimed at preventing individuals from recharacterizing their personal wages as business income.
Middle-Class Benefits
In terms of middle-class benefits, the framework outlines a near doubling of the standard deduction -- to $12,000 for individuals and $24,000 for married couples -- and calls for "significantly increasing" the child tax credit from the current $1,000 per child under 17. It would also expand eligibility to include more upper-middle class parents.
The tax plan still lacks extensive details about ways to offset its rate cuts with additional revenue. It says most itemized deductions for individuals should be eliminated, without providing specifics -- while calling for mortgage interest and charitable giving deductions to be preserved. The tax exemption for municipal bonds would also be retained.
However, the state and local tax deduction would be abolished. Ending that break, which tends to benefit high-income filers in Democratic states, would raise an estimated $1.3 trillion over a decade. The move faces some Republican headwinds from lawmakers in districts that use the deduction heavily.
The plan would also limit the interest deduction companies can take on their borrowing, but no additional details were provided. Congress's tax-writing committees will be tasked with limiting other business credits to help generate additional revenue.
Seeking Offsets
House leaders have proposed abolishing the corporate interest deduction, a move opposed by debt-reliant industries like private equity and commercial real estate. Senate leaders, including Hatch and John Thune of South Dakota, the chamber's No. 3 Republican, have said they want to maintain the deduction at some level at least.
The lack of consensus on how to offset tax cuts -- a prerequisite to making them permanent under the procedure that Senate leaders plan to use to pass the legislation -- poses hurdles. If they fail to raise enough money to avoid a long-term hit to the deficit, at least part of the package would have to expire within a decade under current rules.
But as tax writers surface ideas to raise revenue by closing loopholes or ending specific tax breaks, they'll unleash a torrent of lobbying similar to the campaign that killed a proposed border-adjusted tax earlier this year.
"We're already working on it," said Carlos Curbelo, a member of the Ways and Means panel, in reference to finding offsets.
"There are a number of pay-fors out there that are not just pay-fors, but also good elements of tax reform that will level the playing field across the economy and lead to greater growth," said Curbelo, a Florida Republican. He said the committee's goal is to make the tax changes as permanent as possible.
"So we're in search of it and we're getting close, very close," he said.
— With assistance by Justin Sink, and Jennifer Jacobs
Before it's here, it's on the Bloomberg Terminal.
LEARN MORE